Publication:
La risa exterminadora. El humor trágico en la obra literaria y cinematográfica de Luis Buñuel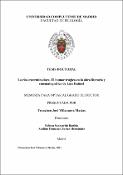 Files
Advisors (or tutors)
Editors
Publisher
Universidad Complutense de Madrid
Abstract
Esta tesis, como su propio título indica: La risa exterminadora. El humor trágico en la obra literaria y cinematográfica de Luis Buñuel, propone una lectura trágica del humor, así como un enfoque epistemológico de la risa, una risa contingente que destruye sin causa y sin finalidad precisas. Desde sus primeros escritos literarios, Buñuel hace del humor un revelador de lo real, es decir, la afirmación "jubilosa" del carácter presente, indecible, indeseable e indigesto de la existencia. Esta forma de intuir la realidad desde el humor se produce en el encuentro azaroso de una experiencia interior trágica y el intento absurdo de querer escapar de ella. La risa apenas esbozada extermina cualquier forma de optimismo o de creencia ilusoria en una existencia "mejor". En primer lugar, este trabajo plantea qué tipo de realidad prevalece en el conjunto de la obra literaria y cinematográfica de Buñuel, al tiempo que cuestiona su dimensión ontológica. El rechazo de una existencia percibida como trágica provoca la creación de su doble, una especie de "impresión fugitiva", según la filosofía de Clément Rosset, bajo la forma de una imagen mental, creada por la memoria y por el lenguaje, que trata de imponer bien otro sentimiento de lo real, la imaginación, bien una especie de "enfermedad" o degradación de lo real, los distintos tipos de ilusión: la oracular, la metafísica o la psicológica. En cambio, para Buñuel, el sueño constituye un doble indisociable de lo real, un doble de "proximidad". Estas reflexiones me permiten afirmar que lo real y el sueño constituyen un tipo deontología negativa o, mejor aún, una "anti-ontología"...
This thesis, as its title indicates: "Exterminating Laughter. Tragic humour in the literary and cinematographic work of Luis Buñuel", proposes a tragic philosophical reading of humour, as well as an epistemological approach to laughter, a contingent laughter that destroys without cause or purpose. From his earliest literary writings, Buñuel uses humour as a revelation of the real, that is, an assertion through "joy" of its present, unspeakable, undesirable, and indigestible character. This "humorous" way of sensing the real comes about suddenly in a hazardous moment when the tragic inner experience and the absurd attempt to escape it come together. A mere hint of laughter would exterminate any form of optimism or any illusory belief in a "better" real. First, this study poses a challenge to the ontological status of the real in Buñuel's literary and cinematographic work as a whole. The refusal of tragic existence provokes the creation of doubles of the real, such as "fleeting impressions", according to the philosopher Clément Rosset, represented "substantially" by memory and language in the form of mental images which then create either another feeling of the real, imagination, or a disease of the real, illusion, whether it be oracular, metaphysical or psychological...
Description
Tesis inédita de la Universidad Complutense de Madrid, Facultad de Filología, leída el 23-11-2021
Collections