Publication:
Estudio de la disfunción endotelial asociada a la inflamación posquirúrgica. La agresión asociada al acto quirúrgico provoca una disfunción endotelial transitoria en el humano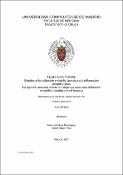 Authors
Editors
Publisher
Universidad Complutense de Madrid
Abstract
Los mecanismos de agresión asociados al acto quirúrgico activan distintos mediadores que desencadenan una respuesta inflamatoria en el organismo a nivel local pero también sistémico. Esta inflamación resulta, en un principio, necesaria, puesto que los procesos de cicatrización dependen de ella. Sin embargo, por cuestiones intrínsecas a la agresión o al sujeto, sus efectos pueden desembocar en una respuesta exagerada y dañina para el individuo. Las citocinas, un conjunto de glucoproteínas de pequeño tamaño necesarias para la comunicación intercelular, tienen un papel fundamental en la actividad de la respuesta pro y antiinflamatoria del organismo: inducen la proliferación y diferenciación celular, la quimiotaxis, el crecimiento y la modulación de la secreción de inmunoglobulinas así como la remodelación de los tejidos. A pesar de múltiples interacciones entre ellas es posible clasificarlas en citocinas proinflamatorias, entre las que destacan por su importancia el factor de necrosis tumoral, la interleucina 1 y la interleucina 6 y, por otro lado, las citocinas antiinflamatorias, que intentan detener los procesos activados por las primeras. El endotelio, por otro lado, puede considerarse un órgano de pleno derecho a pesar de su amplio destierro histórico en el ámbito de la fisiopatología médica hasta fechas relativamente recientes. Esto se debe a su vital localización en la interfaz entre los elementos circulantes de la sangre y el resto de los tejidos y a sus múltiples funciones entre las que destacan la regulación del flujo de sustratos al espacio extravascular, el control de la coagulación, el tono vascular y la fibrinólisis y la activación leucocitaria...
The mechanisms of aggression associated with surgery activate various mediators that trigger an inflammatory response in the body at the local but also at systemic level. This inflammation is, in principle, necessary, since the healing process, ultimately, depend on it. However, for reasons that depend on assault or patient condition, the effects can lead to an exaggerated response harmful to the individual. Cytokines, a set of small glycoproteins necessary in intercellular communication, play a fundamental role in the activity of the pro and anti-inflammatory response of the organism: they induce cell proliferation and differentiation, chemotaxis, modulate immunoglobulin secretion and tissue remodeling. Although there are multiple interactions between them, we may classify them into proinflammatory cytokines, the most important of which are tumor necrosis factor, interleukin 1 and interleukin 6 and, on the other hand, anti-inflammatory cytokines, attempting to stop the activated processes for the former. Furthermore, the endothelium can be considered a full body organ despite its broad historical exile in the field of medical pathophysiology until relatively recently. This importance is due to its location in the vital interface between circulating blood elements and other tissues and its multiple functions among which regulating the flow of substrates into the extravascular space, control of coagulation, vascular tone and fibrinolysis and leukocyte activation. Functions that are critical to the inflammatory response and interrelated with the activation of proinflammatory cytokines...
Description
Tesis inédita de la Universidad Complutense de Madrid, Facultad de Medicina, Departamento de Cirugía, leída el 05-02-2016