Publication:
Convergencia económica y desarrollo desigual: el rol de los rendimientos crecientes y los desequilibrios comerciales en el génesis y crisis de la eurozona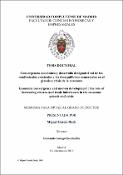 Files
Authors
Advisors (or tutors)
Editors
Publisher
Universidad Complutense de Madrid
Abstract
La Eurozona constituye el intento de integración económica y monetaria entre países más importante de la historia moderna. Culminando el proyecto original esbozado en el Tratado de Roma (1957), el Tratado de Maastricht (1992) estableció el origen de una Unión Económica y Monetaria cuyo elemento definitorio será la introducción de una nueva divisa: el Euro. Algunos de sus objetivos más pretenciosos apuntaban a conseguir creciente cohesión y convergencia económica entre sus miembros mientras la Eurozona se transformaba en el área más competitiva a nivel global. Sin embargo, las herramientas consideradas para alcanzar estos objetivos resultaron ingenuas en el mejor de los casos. Confiando fervorosamente en las propiedades de un mercado abierto y la libre movilidad de capitales, el éxito transitorio experimentado por los paises miembros de la Eurozona durante los años noventa y primeros años del nuevo siglo parecieron confirmar estas intuiciones. A pesar de este éxito inicial, una vez la crisis financiera de 2008 se desató en Europa, las asimetrías características del reciente proceso de construcción Europea no pudieron ocultarse por más tiempo. Un desempeño externo muy asimétrico, gaps de productividad e importantes diferencias sectoriales aparecieron como elementos clave explicando una crisis europea caracterizada por una autoimpuesta ignorancia institucional en materia de política industrial o monetaria más allá de hieráticos objetivos definidos de inflación y laissez-faire industrial.,,
The Eurozone constitutes the most important attempt in modern history of a monetary and economic integration process among countries. Culminating the original project drawn in the Treatise of Rome (1957), the Maastricht Treaty (1992) established the origin of an Economic Union whose cornerstone was the introduction of a common currency: the Euro. Some of its most pretentious goals were to achieve growing cohesion and economic convergence among its members while transforming the Eurozone in the most competitive area worldwide. However, the tools considered in order to achieve these goals were, as it is widely known nowadays, naïve at best. Relying fervorously on the properties of free markets and capital mobility, the transitory success experienced by Eurozone countries during the nineties and early years of the new century seemed to confirm these intuitions. In spite of this initial success, once the 2008 global crisis was triggered in Europe, the asymmetries which characterised the recent European construction process could not be ignored anymore. Uneven external performance, productivity gaps and sectoral differences appeared as core elements explaining a European crisis characterised by a self-imposed institutional ignorance on industrial or monetary policies beyond inflation targets´and industrial laissez-faire. This bias underlying the construction and development of the Eurozone still determines the path of the ongoing European crisis and constitutes the starting point where this dissertation is placed...
Description
Tesis de la Universidad Complutense de Madrid, Facultad de Ciencias Económicas y Empresariales, leída el 05-11-2018
Collections