Publication:
El mecanismo de resolución bancaria: ¿procedimiento singular o expropiación forzosa?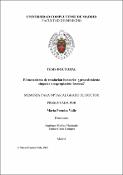 Files
Authors
Advisors (or tutors)
Editors
Publisher
Universidad Complutense de Madrid
Abstract
El mecanismo de resolución bancaria es una respuesta jurídica que se ha arbitrado desde la esfera internacional para tratar de solventar el desafío que ha planteado la necesidad de ordenar de forma factible la crisis de las grandes entidades bancarias, de modo que su quiebra no afecte a la estabilidad económica, ni implique la asunción de las pérdidas por parte de los contribuyentes. Sin embargo, el reto fundamental al que se hade enfrentar este mecanismo es cómo compaginar la finalidad anterior con el respeto de un derecho de dimensión constitucional, como ocurre con el derecho a la propiedad. El presente trabajo de investigación tiene por objeto analizar cuál es la naturaleza jurídica de este procedimiento administrativo y especialmente se aborda si la venta del negocio de una entidad bancaria a otra supone una nueva modalidad de expropiación forzosa...
The bank resolution mechanism is a legal response that has been arbitrated from the international sphere to try to solve the challenge posed by the need to order in a feasible way the crisis of large banking entities, so that their bankruptcy does not affect the economic stability, nor does it imply the assumption of losses by taxpayers. However, the fundamental challenge that this mechanism has to face is how to reconcile the above purpose with respect for a right with a constitutional dimension, as is the case with the right to property. The purpose of this research work is to analyze the legal nature of this administrative procedure and, especially, it addresses whether the sale of the business from one bank to another involves a new form of compulsory expropriation...
Description
Tesis inédita de la Universidad Complutense de Madrid, Facultad de Derecho, leída el 15-09-2021
Collections