Publication:
Valoración de proyectos de entrada en nuevos mercados en la industria del comercio minorista: un análisis de opciones reales y teoría de juegos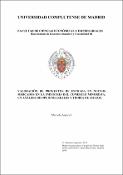 Authors
Advisors (or tutors)
Editors
Publisher
Universidad Complutense de Madrid
Abstract
En la industria del comercio minorista es práctica generalizada analizar los proyectos de entrada en nuevos mercados utilizando la metodología de descuento de flujos de caja (DFC). Esta metodología no considera la flexibilidad o cambios en el curso de acción una vez que los proyectos han comenzado. Por lo tanto, existe una infravaloración de los proyectos debido a la falta de consideración de las opciones de flexibilidad, ampliación, aprendizaje o abandono. Más aún, la metodología del DFC no puede reflejar las acciones de la competencia una vez que las compañías entran en el mercado. -Objetivos. Los principales objetivos de este trabajo son comprobar que existe una infravaloración en los proyectos de entrada en nuevos mercados en el sector del consumo minorista y proponer una metodología de valoración alternativa a través de la aplicación en dos ejemplos reales. -Metodología. La metodología aplicada en el presente trabajo está basada en el análisis de opciones reales y teoría de juegos. Primero, definiremos el tamaño del mercado en el momento inicial y aplicaremos la metodología de DFC para obtener el VAN del proyecto de entrar en un nuevo mercado (caso base). Segundo, necesitamos capturar la incertidumbre de la evolución del tamaño del mercado asumiendo que el mercado evoluciona exponencialmente de acuerdo con un movimiento geométrico Browniano que describe el proceso estocástico de un parámetro X(t)...
In the retail industry, it́s general practice to analyze new market entrant projects applying discounted cash flows (DCF) methods. These methods dońt consider flexibility or changes of course of actions once a new project started. Therefore therés an undervaluation of new market entrant projects due to lack of flexibility, expansion, learning or abandonment options consideration. Moreover, DCF methods cańt reflect the competitorś actions once companies enter in the market. -Objectives. The main objectives of this work are both to verify that companies in retail sector undervalue expansion projects in new markets and to propose an alternative methodology to valuate this type of projects. -Methodology. The methodology applied to the present work is based on real options analysis and game theory. First, we will define the size of the market at initial time to apply traditional DCF methodology and get NPV of the project to enter a new market. This valuation will be the base case to compare and analyze the option games valuation proposed. Second, we will need to capture the uncertainty of the market size evolution, assuming that the market evolves exponentially according to a standard geometric Brownian motion (GBM) that describes the stochastic process of a parameter X(t). Once market size is known, we can set up the market structures. A company will face the following decisions at time zero and at maturity...
Description
Tesis inédita de la Universidad Complutense de Madrid, Facultad de Ciencias Económicas y Empresariales, Departamento de Economía Financiera y Contabilidad III, leída el 30-10-2015
Collections