Publication:
Evaluación-acreditación de la educación superior en el Ecuador, metaevaluación y gestión académica de calidad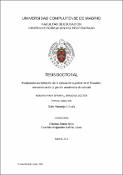 Files
Authors
Advisors (or tutors)
Editors
Publisher
Universidad Complutense de Madrid
Abstract
Pensar en evaluación es atreverse a ser constructores de caminos de innovación, deliberados desde la identidad cultural que enraíza compromisos de vida con los seres humanos y las instituciones, porque es a través de la reflexión crítica y creativa que se generan tiempos y espacios de aprendizaje colectivo para que la calidad se convierta en una forma de vida. La evaluación de las Instituciones de educación superior tiene sentido cuando el objetivo central es empoderar a los protagonistas de estos procesos en una tarea inacabada de FE en sus propias potencialidades, alegría plena para avanzar en la consecución de nuevas metas, oportunidad para hacer mejor lo que se está haciendo, reflexión sobre el sentido y orientación de la misión y visión en el entorno social, descubrimiento de nuevas formas de sostenibilidad institucional que ocurren cuando la sociedad cree, confía en la comunidad universitaria y, se la valora como referente de liderazgo ético. Uno de los factores más trascendentes para transformar instituciones educativas es sin lugar a dudas la evaluación, porque permite extraer "desde dentro" el valor del talento humano, que es el único que puede innovar algo, a través de la reflexión crítica y propositiva en comunidades proactivas de aprendizaje continuo...
Thinking about evaluation is to dare to become constructors of innovative paths, originated in a cultural identity which generates life agreements between people and the institutions; since it is only through critical and creative thinking that time and space for collective learning is generated and quality becomes a way of life. Evaluation of higher education institutions make sense when the main objective is to empower the main actors of the procedures in an unfinished task of FAITH in their own potentiality, joy in a continuous search to reach new goals, opportunity to do better what is already being done, reflect about the sense and orientation of the mission and vision of the social environment, discovery of new ways for institutional sustainability, needed when a society experiences growth. In this process, it is important to build trust from the university community and to become a referent for an ethical leadership. Without any doubt, one of the most transcendental factors to transform educational institutions is evaluation. This exercise allows bringing out, from the deepest source of a being, the value of human talent, which is the only one that can foster innovation, through critical and proposing thinking in an ongoing learning. The author of the present dissertation poses a thought as the core idea of this work: "Breathing is to life as evaluation is to quality"...
Description
Tesis inédita de la Universidad Complutense de Madrid, Facultad de Educación, leída el 16/12/2015
Collections