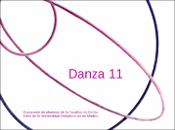 Authors
Advisors (or tutors)
Editors
Publisher
Ayuntamiento de Torrelodones
Abstract
Catálogo editado con motivo de la exposición titulada "Danza 11", celebrada en septiembre de 2011, en la Sala Villaseñor de la Casa de Cultura de Torrelodones, Madrid. Las 13 obras del catálogo, todas de estudiantes de asignaturas de escultura, de la Facultad de Bellas Artes de la Universidad Complutense de Madrid, trataban el tema de la danza a través de gran variedad de lenguajes artísticos y diferentes materiales como metal, madera o resina.
This catalogue was published due to the exhibition entitled "Danza 11", which took place in September 2011, at Sala Villaseñor in the city council of Torrelodones, Madrid. The 13 works of art on the catalogue, all of them from students of the subject sculpture of the Faculty of Arts at the "Complutense" University of Madrid, represent the subject of dance through a great variety of artistic language and different materials such as metal, wood or resin.
Description
Participantes: Carmela Alcolea Sánchez, Mireya Arenas Patiño, María Ávila Rodríguez, Raquel Checa Solueta, Marta Domínguez Pérez, Brezo García Prieto, Belén Paredes Aparicio, Verónica Rivas Jaenz, Mónica Sanz Aguilar, Ana María Tejero Linale, Rebeca Amaro Esteban, Laura Salas Oraá, Dara Alonso Arana.
Collections