Publication:
Lineability and algebrability of pathological phenomena in analysis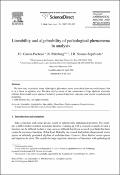 Advisors (or tutors)
Editors
Abstract
We show that, in analysis, many pathological phenomena occur more often than one could expect, that is, in a linear or algebraic way. We show this by means of the construction of large algebraic structures (infinite dimensional vector spaces or infinitely generated algebras) enjoying some special or pathological properties.
Citation
R.M. Aron, V.I. Gurariy, J.B. Seoane-Sepúlveda, Lineability and spaceability of sets of functions on R, Proc. Amer.Math. Soc. 133 (2005) 795–803. R.M. Aron, D. Pérez-García, J.B. Seoane-Sepúlveda,Algebrability of the set of non-convergent Fourier series, Studia Math., in press. R.M. Aron, J.B. Seoane-Sepúlveda, Algebrability of the set of everywhere surjective functions on C, Bull. Belg.Math. Soc. Simon Stevin, in press. R.P. Boas, A Primer of Real Functions, fourth ed., The Mathematical Association of America, 1996. P. Enflo, V.I. Gurariy, On lineability and spaceability of sets in function spaces, preprint. B.R. Gelbaum, J.M.H. Olmsted, Counterexamples in Analysis,Dover Publications, New York, 2003. V.I. Gurariy, Subspaces and bases in spaces of continuous functions, Dokl. Akad. Nauk SSSR 167 (1966) 971–973 (in Russian). H. Lebesgue, Leçons sur l'intégration, Gauthier–Willars,1904.
Collections