Publication:
Locating a facility on a network with multiple median-type objectives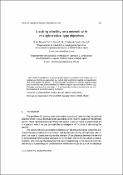 Advisors (or tutors)
Editors
Abstract
We consider the problem of locating a single facility on a network in the presence of r greater than or equal to 2 median-type objectives, represented by r sets of edge weights (or lengths) corresponding to each of the objectives. When r = 1, then one gets the classical 1-median problem where only the vertices need to be considered for determining the optimal location (Hakimi [1]). The paper examines the case when r greater than or equal to 2 and provides a method to determine the non-dominated set of points for locating the facility
Citation
S.L. Hakimi, Optimal locations switching centers and the absolute centers and medians of a graph, Operations Research 12(1964)450-459. G. Handler and P. Mirchandani, Locations on Networks, MIT Press, 1979. P. Harvinen, T. Rajala and K. Sinerva, A branch and bound algorithm for seeking the p-median, Operations Research 20(1972)173-178. O. Kariv and S.L. Hakimi, Optimum distribution of switching centers in a communication network and some related graph-theoretic problems, Operations Research 13(1965)462-475. O. Kariv and S.L. Hakimi, An algorithmic approach to network location problems. II: The p-medians, SIAM Journal of Applied Mathematics 37(1979)539-560. P.B. Mirchandani and R.L. Francis, Discrete Location Theory, Wiley Interscience, 1990. S.C. Narula, U.L. Ogbu and H.M. Samuelsson, An algorithm for the p-median problem, Operations Research 25(1977)709-712. A. Oudjit, Mediam locations on deterministic and probabilistic multidimensional networks, Ph.D. Dissertation, Rensselaer Polytechnic Institute, Troy, NY, 1981. S. Singer, Multi-centers and multimedians of a graph with an application to optimal warehouse location, Operations Research 16(1968) B-87-88.
Collections