Publication:
Privatización de grandes empresas, República Checa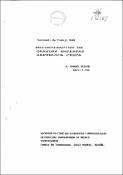 Files
Authors
Advisors (or tutors)
Editors
Publisher
Facultad de Ciencias Económicas y Empresariales. Decanato
Abstract
Se estudia la privatización de grandes empresas de la República Checa, mediante el análisis de diferentes indicadores tales como la situación del proceso privatizador a fecha de 1 de enero de 1995, en términos monetarios y de entidades a privatizar, los métodos de privatización aplicados y la estructura de la propiedad. También se incluye un análisis de casos prácticos.
Citation
Iván Major Privatization in Eastern Europe: A critical approach. Ed. Edward E1gar Publishing Ltd. 1993 Collection of papers. Privatization in Central and Eastern Europe. Ed. Butterworths 1991. Martin Myant. Transforming socia1ists economies: The case of Poland and Checoeslovaquia. Ed. Edward Elgar Publishing Ltd. 1993. Ian Jeffries. Industrial reform in socialists countries: From restructuring to Revolution. Ed. Edward Elgar Publishing Ltd. 1993. PlanEcon Report. Situación macroeconómica de Chequia. Diciembre 1995. Volumen XI números 41 y 42. Euromonitor Eastern Europe. A directory & Sourcebook. Systemic Change and Stabilization in Eastern Europe. László Csaba. Ed. Dartmouth. 1991. Privatization, Liberalization and Destruction. Ed. Dartmouth. László Csaba. The Economist Intelligence Unit "Czech Republic, Country Profile". 1993/94, 1994/95, 1995/96. OB Exchange Bul1etin. Aftos 1994 y 1995. Economist Survey (Monografía sobre ajuste empresarial en Chequia, Polonia y Hungría). Eastern European Economist. Economic Policy. August 1995. Business Central Europe. December 1995, January 1996. ICE. Número 717. Mayo 1993. PlanEcon Report. Vol.XI, nº 41-42. Situación macroeconómica de Chequia Diciembre 1995.