Publication:
La aportación del urbanismo al principio de suficiencia financiera municipal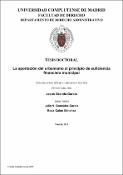 Files
Authors
Advisors (or tutors)
Editors
Publisher
Universidad Complutense de Madrid
Abstract
La Constitución Española de 27 de diciembre de 1978 proclama en sus Artículos 140 y 142 los principios de Autonomía y Suficiencia Financiera Municipal. Sin embargo, debido a la escasa regulación constitucional en la concreción y delimitación de estos principios, ha sido necesario perfilar el alcance de los mismos; primero a través de una abundante doctrina del Tribunal Constitucional y, posteriormente, mediante su desarrollo legislativo en las leyes 7/1985, de 2 de abril, Reguladora de las Bases de Régimen Local, y en el aspecto económico por la Ley 39/1988, de 28 de diciembre, Reguladora de las Haciendas Locales. El objeto de la tesis doctoral es analizar la importancia de los ingresos proporcionados por la actividad urbanística al cumplimiento del principio de Suficiencia Financiera Municipal. Este principio es complementario del de Autonomía ya que, como dice el Tribunal Constitucional, el principio de Autonomía Municipal está en estrecha relación con el principio de Suficiencia Financiera, pues la privación de los recursos económicos a los municipios no solo afecta al núcleo esencial de su autonomía, núcleo indisponible para el legislador, sino que provoca la quiebra de dicho principio al no dotarse a las entidades locales de los recursos económicos suficientes. La Ley de Haciendas Locales estructura los ingresos municipales fundamentalmente en dos conceptos: Tributos propios y la participación en los ingresos del Estado y de las Comunidades Autónomas, tal como prevé el Artículo 142 de la Constitución...
Articles 140 and 142 of the Spanish Constitution of 27 December 1978 determine the Principles of Autonomy and Municipal Financial Sufficiency. However, due to poor Constitutional regulation on the delimitation of these principles, it has been necessary to outline the scope thereof; first through the numerous policies of the Constitutional Court and subsequently by the legislative development in the Law 7/1985 of 2 April, regulating the Bases of Local Government, as well as the economic aspect by Law 39/1988 of 28 December, that regulates Local Tax Revenue. The aim of this PHD thesis is to analyze the importance of tax revenue provided by urban planning to the principle of Municipal Financial Sufficiency. This principle is complementary to that of Municipal Autonomy since, as the Constitutional Court says, the principle of municipal autonomy is closely linked with the principle of financial capacity, as the deprivation of economic resources to municipalities not only affects the core of its autonomy, restricted to the legislature core, but causes the bankruptcy of that principle by not providing the local authorities with sufficient financial resources. The Local Finance Law structures municipal revenues on two concepts: tax revenue at municipal level and participation in state revenues and those from the Autonomous Communities as provided for in Article 142 of the Constitution...
Description
Tesis inédita de la Universidad Complutense de Madrid, Facultad de Derecho, Departamento de Derecho Administrativo, leída el 05/06/2017
Collections