Publication:
A new stellar library in the region of the CO index at 2.3 mu m - New index definition and empirical fitting functions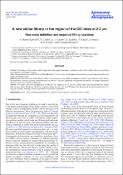 Advisors (or tutors)
Editors
Abstract
The analysis of unresolved stellar populations demands evolutionary synthesis models with realistic physical ingredients and extended wavelength coverage. Aims. We quantitatively describe the first CO bandhead at 2.3 mu m to allow stellar population models to provide improved predictions in this wavelength range. Methods. We observed a new stellar library with a better coverage of the stellar atmospheric parameter space than in earlier works. We performed a detailed analysis of the robustness of previous CO index definitions with spectral resolution, wavelength calibration, signal-to-noise ratio, and flux calibration. Results. We define a new line-strength index for the first CO bandhead at 2.3 mu m, DCO, better suited for stellar population studies than previous index definitions. We derive empirical fitting functions for the CO feature as a function of the stellar parameters (T(eff), log g and [Fe/H]), showing a detailed quantitative metallicity dependence.
Description
© ESO 2008. This work was supported by the Spanish research projects AYA2006-14318, AYA2006-15698-C02-02, AYA2007-67752C03-03. E. M. Q. acknowledges the Spanish Ministry of Education and Science and the European Social Found for a Formación de Personal Investigador fellowship under the project AYA2003-01840. A.J.C. is a Juan de la Cierva Fellow of the Spanish Ministry of Education and Science. This research was supported by a Marie Curie Intra-European Fellowship within the 6th European Community Framework Program. Based on observations collected at the Centro Astronomico Hispano Aleman (CAHA) at Calar Alto, operated jointly by the Max-Planck Institut fur Astronomie and the Instituto de Astrofísica de Andalucía (CSIC). Based on observations made with the Italian Telescopio Nazionale Galileo (TNG) operated on the island of La Palma by the Fundación Galileo Galilei of the INAF (Istituto Nazionale di Astrofisica) at the Spanish Observatorio del Roque de los Muchachos of the Instituto de Astrofísica de Canarias. This research made use of the SIMBAD database (operated at CDS, Strasbourg, France), the NASA's Astrophysiscs Data System Bibliographic Services, and the Hipparcos Input Catalogue. The authors are grateful to the allocation time committees for the generous concession of observing time. We finally thank the anonymous referee for very useful comments and suggestions.
Citation
Ali, B., Carr, J. S., Depoy, D. L., Frogel, J. A., & Sellgren, K. 1995, AJ, 110, 2415 Alonso, A., Arribas, S., & Martínez Roger, C. 1999, A&AS, 140, 261 Baldwin, J. R., Frogel, J. A., & Persson, S. E. 1973, ApJ, 184, 427 Bendo, G. J., & Joseph, R. D. 2004, AJ, 127, 3338 Bruzual, G., & Charlot, S. 2003, MNRAS, 344, 1000 Cardiel, N. 1999, Ph.D. Thesis Cardiel, N. 2007, in Highlights of Spanish astrophysics IV, ed. F. Figueras, J. Girart, M. Hernanz, & C. Jordi, CD-ROM Cardiel, N., Gorgas, J., Cenarro, J., & González, J. J. 1998, A&AS, 127, 597 Cardiel, N., Gorgas, J., Sánchez Blázquez, P., et al. 2003, A&A, 409, 511 Carretta, E., & Gratton, R. G. 1997, A&AS, 121, 95 Cayrel de Strobel, G., Soubiran, C., & Ralite, N. 2001, A&A, 373, 159 Cenarro, A. J., Cardiel, N., Gorgas, J., et al. 2001a, MNRAS, 326, 959 Cenarro, A. J., Gorgas, J., Cardiel, N., et al. 2001b, MNRAS, 326, 981 Cenarro, A. J., Gorgas, J., Cardiel, N., Vazdekis, A., & Peletier, R. F. 2002, MNRAS, 329, 863 Cenarro, A. J., Peletier, R. F., Sánchez Blázquez, P., et al. 2007, MNRAS, 374, 664 Crampin, J., & Hoyle, F. 1961, MNRAS, 122, 27 Cushing, M. C., Rayner, J. T., & Vacca, W. D. 2005, ApJ, 623, 1115 Davidge, T. J., Beck, T. L., & McGregor, P. J. 2008, ApJ, 677, 238 Davidge, T. J. & Jensen, J. B. 2007, AJ, 133, 576 Doyon, R., Joseph, R. D., & Wright, G. S. 1994, ApJ, 421, 101 Förster Schreiber, N. M. 2000, AJ, 120, 2089 Frogel, J. A., Becklin, E. E., Neugebauer, G., et al. 1975, ApJ, 195, L15 Frogel, J. A., Kuchinski, L. E., & Tiede, G. P. 1995, AJ, 109, 1154 Frogel, J. A., Persson, S. E., & Cohen, J. G. 1980, ApJ, 240, 785 Frogel, J. A., Persson, S. E., Matthews, K., & Aaronson, M. 1978, ApJ, 220, 75 Frogel, J. A., Stephens, A., Ramírez, S., & DePoy, D. L. 2001, AJ, 122, 1896 Girardi, L., Bressan, A., Bertelli, G., & Chiosi, C. 2000, A&AS, 141, 371 Goldader, J. D., Joseph, R. D., Doyon, R., & Sanders, D. B. 1997, ApJ, 474, 104 Gorgas, J., Cardiel, N., Pedraz, S., & González, J. J. 1999, A&AS, 139, 29 Gorgas, J., Faber, S. M., Burstein, D., et al. 1993, ApJS, 86, 153 Hanson, M. M., Conti, P. S., & Rieke, M. J. 1996, ApJS, 107, 281 Hanson, M. M., Kudritzki, R.-P., Kenworthy, M. A., Puls, J., & Tokunaga, A. T. 2005, ApJS, 161, 154 Harris, W. E. 1996, AJ, 112, 1487 Hill, T. L., Heisler, C. A., Sutherland, R., & Hunstead, R. W. 1999, AJ, 117, 111 Hopp, U., & Fernández, M. 2002, Calar Alto Newsletter, 4 Ivanov, V. D., Rieke, G. H., Groppi, C. E., et al. 2000, ApJ, 545, 190 Ivanov, V. D., Rieke, M. J., Engelbracht, C. W., et al. 2004, ApJS, 151, 387 James, P. A., & Mobasher, B. 1999, MNRAS, 306, 199 James, P. A., & Seigar, M. S. 1999, A&A, 350, 791 Johnson, H. J., & Mendez, M. E. 1970, AJ, 75, 785 Kleinmann, S. G., & Hall, D. N. B. 1986, ApJS, 62, 501 Kuchinski, L. E., & Frogel, J. A. 1995, AJ, 110, 2844 Kuchinski, L. E., Frogel, J. A., Terndrup, D. M., & Persson, S. E. 1995, AJ, 109, 1131 Lançon, A., & Rocca-Volmerange, B. 1992, A&AS, 96, 593 Lançon, A., & Wood, P. R. 2000, A&AS, 146, 217 Lang, L. 1991, Astrophysical Data: Planets and Stars (Springer-Verlag), 1 Lejeune, T., Cuisinier, F., & Buser, R. 1997, A&AS, 125, 229 Lejeune, T., Cuisinier, F., & Buser, R. 1998, A&AS, 130, 65 Livingston, W., & Wallace, L. 1991, An atlas of the solar spectrum in the infrared from 1850 to 9000 cm−1, 1.1 to 5.4 micrometer, NSO Technical Report, Tucson: National Solar Observatory, National Optical Astronomy Observatory Mannucci, F., Basile, F., Poggianti, B. M., et al. 2001, MNRAS, 326, 745 Maraston, C. 2005, MNRAS, 362, 799 Mayya, Y. D. 1997, ApJ, 482, L149 McWilliam, A., & Lambert, D. L. 1984, PASP, 96, 882 Mieske, S., & Kroupa, P. 2008, ApJ, 677, 276 Mobasher, B., & James, P. A. 1996, MNRAS, 280, 895 Mobasher, B., & James, P. A. 2000, MNRAS, 316, 507 Oliva, E., & Origlia, L. 1992, A&A, 254, 466 Origlia, L., Moorwood, A. F. M., & Oliva, E. 1993, A&A, 280, 536 Origlia, L., & Oliva, E. 2000, A&A, 357, 61 Puxley, P. J., Doyon, R., & Ward, M. J. 1997, ApJ, 476, 120 Ramírez, S. V., Depoy, D. L., Frogel, J. A., Sellgren, K., & Blum, R. D. 1997, AJ, 113, 1411 Ranada, A. C., Singh, H. P., Gupta, R., & Ashok, N. M. 2007, Bulletin of the Astronomical Society of India, 35, 87 Ridgway, S. E.,Wynn-Williams, C. G., & Becklin, E. E. 1994, ApJ, 428, 609 Riffel, R., Pastoriza, M. G., Rodríguez Ardila, A., & Maraston, C. 2007, ApJ, 659, L103 Rousselot, P., Lidman, C., Cuby, J.-G., Moreels, G., & Monnet, G. 2000, A&A, 354, 1134 Rutledge, G. A., Hesser, J. E., & Stetson, P. B. 1997, PASP, 109, 907 Sánchez Blázquez, P., Peletier, R. F., Jiménez Vicente, J., et al. 2006, MNRAS, 371, 703 Shier, L. M., Rieke, M. J., & Rieke, G. H. 1996, ApJ, 470, 222 Silva, D. R., Kuntschner, H., & Lyubenova, M. 2008, ApJ, 674, 194 Stephens, A. W., & Frogel, J. A. 2004, AJ, 127, 925 Terndrup, D. M., Frogel, J. A., & Whitford, A. E. 1991, ApJ, 378, 742 Tinsley, B. M. 1972, ApJ, 178, 319 Tinsley, B. M. 1978, ApJ, 222, 14 Tinsley, B. M. 1980, Fundamentals of Cosmic Phys., 5, 287 Turon, C., Crézé, M., Egret, D., & et al. 1992, The HIPPARCOS input catalogue (ESA Special Publication), 1136 Vanzi, L., & Rieke, G. H. 1997, ApJ, 479, 694 Vazdekis, A., Cenarro, A. J., Gorgas, J., Cardiel, N., & Peletier, R. F. 2003, MNRAS, 340, 1317 Wallace, L., & Hinkle, K. 1996, ApJS, 107, 312 Wallace, L., & Hinkle, K. 1997, ApJS, 111, 445 Worthey, G. 1994, ApJS, 95, 107 Worthey, G., Faber, S. M., González, J. J., & Burstein, D. 1994, ApJS, 94, 687 Zinn, R., & West, M. J. 1984, ApJS, 55, 45
Collections