Publication:
Forjadas por los adversarios. Movilización católica en la era del liberalismo (1812-1874)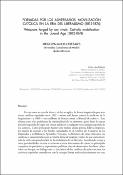 Authors
Advisors (or tutors)
Editors
Abstract
En este texto se traza la historia de las recogidas de firmas impulsadas por activistas católicos españoles entre 1812 —veinte mil firmas contra la abolición de la Inquisición— y 1869 —tres millones de firmas contra la libertad de cultos—. Esta última, pese a los problemas de verosimilitud de los números, quizá fuera la mayor petición española del siglo xix y hace palidecer a cualquier otra campaña española de esa centuria. Como principales fuentes este trabajo utiliza prensa, folletos impresos, los diarios de sesiones y los fondos custodiados en el Archivo del Congreso de los Diputados y la Biblioteca Apostólica Vaticana. A diferencia de otras peticiones, las católicas se caracterizaban por aceptar la firma de mujeres y niños, lo que cortocircuitaba la viril conceptualización de la ciudadanía de los liberales. Atendiendo a estas y otras peculiaridades, en este artículo no se trata únicamente de censar las principales campañas de peticiones y exposiciones públicas, sino de desentrañar las claves culturales con las que, en diálogo con las iniciativas de los católicos de países vecinos, los activistas españoles entendieron que la recoger firmas multitudinariamente era una norma adecuada de intervención popular en la política. La principal conclusión es que el activismo católico jugó un papel protagonista en la inscripción en la cultura política española del siglo xix del movimiento social como forma peculiar de hacer política.
This article outlines the history of the Spanish Catholic petition drives from 1812, when Catholic activist collected twenty thousand signatures against the abolition of the Inquisition, to 1869, when they gathered three million signatures opposing freedom of religion. This last campaign, albeit with some irregularities in the procuring of names, produced the most considerable amount of signatures to a petition of nineteenth-century Spain. The research is built upon newspapers, printed leaflets, records of parliamentary debates and parliamentary and Vatican archival collections. Contrary to other nineteenth-century drives, Spanish Catholic petitions usually accepted signatures of women and children, thus clashing with the virile understanding of citizenship embraced by the dominant liberal culture. By paying attention to this and other peculiarities, this article aims to reconstruct the cultural understandings that, in dialogue with the experiences of Catholics of other countries, the Spanish activists developed in order to make use of mass-signed petitions and addresses, a form of doing politics that many understood as belonging to the world of Jacobinism and liberalism. The main conclusion is that Catholic activism played a crucial role in the inscription of the social movement, here understood as a peculiar form of doing politics, into the political culture of nineteenth-century Spaniards.
Collections