Publication:
Recubrimientos multifuncionales anti-hielo para componentes que operan en condiciones ambientales severas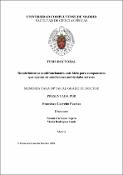 Authors
Advisors (or tutors)
Editors
Publisher
Universidad Complutense de Madrid
Abstract
La acumulación de hielo sobre diferentes estructuras supone un riesgo para el correcto desempeño de las mismas, así como para la seguridad de sus usuarios y operarios. Es por ello por lo que, en la actualidad, muchas de estas estructuras cuentan con dispositivos o procedimientos de operación capaces de combatir de manera eficaz la presencia del hielo sobre las mismas. Son, sin embargo, los costes asociados a la manufactura, mantenimiento y puesta en marcha de estos dispositivos activos, los que ponen de manifiesto, cada vez más, el interés en el desarrollo de sistemas pasivos. Los recubrimientos con propiedades super hidrofóbicas o hielófobicas se presentan como un método interesante para combatir la acumulación de hielo sobre diferentes estructuras. En el presente trabajo se exponen nuevos métodos de preparación de dichos recubrimientos. Procedimientos que parten de la modificación de los sistemas actuales de pintado, por lo que son baratos de implementar, fáciles de escalar y evitan el uso de sustancias fluoradas, lo que permite que sean menos perjudiciales para el medio ambiente. Características, todas ellas, industrialmente interesantes...
The accumulation of ice over different structures poses a risk for their correct performance, as well as for the safety of their users and operators. That is why, at the moment, many of these structures present devices or operating procedures capable of effectively fight against the presence of ice. However, the costs associated with the manufacture, maintenance and start-up of these active devices reveal the interest in the development of cheaper passive systems. Coatings with superhydrophobic or ice-phobic properties are presented in the scientific literature as an interesting method to avoid the accumulation of ice on different structures. In the present work, new methods of preparation of said coatings are exposed. Procedures that start from the modification of current coating systems, so they are cheap to implement, easy to scale and avoid the use of fluorinated substances, which allows them to be less harmful to the environment. Features, all of them industrially interesting...
Description
Tesis inédita de la Universidad Complutense de Madrid, Facultad de Ciencias Físicas, Departamento de Física de Materiales, leída el 15-10-2020
Collections