Publication:
Resource Dependence In Non-profit Organizations: Is It Harder To Fundraise If You Diversify Your Revenue Structure?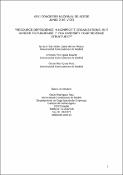 Advisors (or tutors)
Editors
Abstract
This article explores how fundraising efficiency is affected by changes in diversification of revenues in non-profit organizations. It uses random effect regression and Arellano–Bond models to study this phenomenon in a sample of 10358 US non-profits during the 1997–2007 period. We find a negative impact on fundraising efficiency when NPOs alter their locus of dependence and change their pattern of diversification. This effect is impacted by organizational size and industry. Previous studies have suggested that income heterogeneity is associated with organizational stability and financial strength. Using a change (versus level) model of funding diversity, our work shows that increased diversification leads to a higher operational inefficiency that could be penalized by potential donors.
Cet article explore la fac¸on dont le rendement des collectes de fonds est influence´ par les changements survenus dans la diversification des revenus des organismes sans but lucratif. Il emploie des mode`les de re´gression a` effet ale´atoire et Arellano-Bond pour e´tudier ce phe´nome`ne a` l'aide des donne´es de 10,358 organismes sans but lucratif ame´ricains datant de 1997 a` 2007. Nous remarquons que le rendement des collectes subit des effets ne´gatifs lorsque les organismes alte`rent leur rapport de de´pendance et modifient leur mode`le de diversification. Cet effet est influence´ par la taille et le secteur des dits organismes. Des e´tudes pre´ce´dentes ont sugge´re´ que l'he´te´roge´ne´ite´ des revenus est associe´e a` la stabilite´ et a` la force financie`re de l'organisme. A` l'aide d'un mode`le (niveaux de comparaison) d'e´tude des changements de la diversite´ des fonds, nos travaux de´montrent que la diversification accrue provoque un rendement operationnel supe´rieur, qui pourrait eˆtre pe´nalise´ par de potentiels donateurs
Dieser Beitrag untersucht, wie sich die Änderungen in der Einnahmendiversifizierung gemeinnütziger Organisationen auf die Effizienz der Mittelbeschaffung auswirken. Man stu¨tzt sich dabei auf die Random-Effects-Regressions- und Arellano-Bond-Modelle, um dieses Phänomen anhand einer Stichprobe von 10.358 US-amerikanischen gemeinnützigen Organisationen im Zeitraum von 1997 bis 2007 zu erforschen. Das Ergebnis zeigt eine negative Auswirkung auf die Effizienz der Mittelbeschaffung, wenn die gemeinnützigen Organisationen ihren Locus der Abha¨ngigkeit und ihre Diversifizierungsstruktur ändern. Die Größe und Branche der Organisation beeinflussen diesen Effekt. Vorherige Studien deuteten darauf hin, dass die Einnahmenheterogenität mit der Stabilität und Finanzkraft einer Organisation in Verbindung steht. Anhand eines Änderungsmodells (im Gegensatz zu einem Ebenenmodell) der Finanzierungsdiversität wird gezeigt, dass eine gro¨ßere Diversifizierung zu einer erho¨hten betrieblichen Ineffizienz führt, die von potenziellen Spendern geahndet werden könnte.
El presente artículo explora cómo la eficiencia en la recaudación de fondos se ve afectada por cambios en la diversificación de los ingresos en organizaciones sin ánimo de lucro (NPO, por sus siglas en inglés). Utiliza la regresión de efecto aleatorio y los modelos de Arellano-Bond para estudiar este fenómeno en una muestra de 10358 organizaciones estadounidenses sin ánimo de lucro durante el perıodo 1997–2007. Encontramos un impacto negativo sobre la eficiencia en la recaudación de fondos cuando las NPO alteran su centro de dependencia y cambian su patrón de diversificación. Este efecto se ve afectado por el tamaño organizativo y la industria. Estudios previos han sugerido que la heterogeneidad de los ingresos está asociada a la estabilidad organizativa y a la fortaleza financiera. Utilizando un modelo de cambios (frente a niveles) de diversidad de la financiación, nuestro trabajo muestra que un aumento de la diversificación lleva a una ineficiencia operativa más elevada que podría ser penalizada por los potenciales donantes.
Collections