Publication:
La meta-ilusión. Ilusiones ópticas en la práctica artística a través de realidad extendida entre los años 1990 y 2022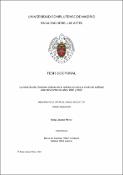 Authors
Advisors (or tutors)
Pérez González, María del Carmen
Editors
Publisher
Universidad Complutense de Madrid
Abstract
Las ilusiones ópticas y la realidad virtual, aumentada y mixta, dentro del contexto del arte, han sido profundamente estudiadas de manera independiente, pero muy pocas investigaciones han abordado el comportamiento de los engaños visuales en obras de arte de vanguardia, desarrolladas en el contexto de la realidad extendida. Si se pone el foco en este ámbito de estudio, otro factor a tener en cuenta, son las variaciones, en cuanto a percepción se refiere, de los errores generados por las ilusiones ópticas en la escala que abarca desde los entornos completamente reales hasta los completamente virtuales. Esta relación constituye un campo de investigación con un considerable margen de exploración en el mundo académico y abre un amplio rango de posibilidades, en términos de análisis y reflexión, sobre los fenómenos ópticos y los factores que los desencadenan en entornos de realidad extendida. Si bien, el fenómeno de los errores perceptivos en entornos virtuales se ha estudiado profundamente en campos como la psicología, la neurociencia o la ingeniería informática, no ha ocurrido lo mismo en el ámbito artístico, donde los fenómenos visuales son uno de los pilares de la investigación, sugiriendo así una aproximación más profunda de dichas perturbaciones ópticas en este campo...
Optical illusions and virtual, augmented and mixed reality, within the context of art, have been deeply studied independently, but very little research has addressed the behavior of visual deception in contemporary artworks,developed in the context of extended reality. Focusing on this field of study, another factor to take into account is the variations, in terms of perception, of the errors generated by optical illusions on the scale that ranges from completely real environments to completely virtual. This relationship constitutes a field of research with considerable room for exploration in the academic world and opens up a wide range of possibilities, in terms of analysis and reflection, on optical phenomena and the factors that trigger them in extended reality environments...
Description
Tesis inédita de la Universidad Complutense de Madrid, Facultad de Bellas Artes, leída el 16/12/2022
Collections