Publication:
Helena de Troya cuenta su propia historia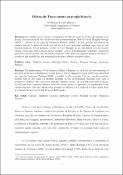 Authors
Advisors (or tutors)
Editors
Abstract
Se estudia en este trabajo la caracterización del personaje de Helena de Esparta (o de Troya) y la reescritura del mito en dos novelas contemporáneas: Helen of Troy de Margaret George (2006) y Memorie di una cagna de Francesca Petrizzo (2010). Las dos novelas constituyen un eslabón más en la cadena de modernas relecturas de este personaje mitológico que tiene ya una fecunda tradición. En el presente estudio se hace hincapié en su vinculación con las fuentes clásicas -de las que ambas autoras parten siempre- y en su distanciamiento voluntario -nunca por ignorancia- de las mismas. De este modo, tomando como referencia algunos pasajes concretos, se estudia en qué medida hay una combinación de mito y ficción en ambas obras. [ABSTRACT]The performance of the character Helen of Esparta (or of Troy) and the rewriting of the myth in the two contemporary novels Helen of Troy by Margaret George (2006) and Memorie di una cagna by Francesca Petrizzo (2010) is studied in this research. The two novels constitute another link in the chain of modern readings of the mythological character with such a productive tradition. The connection with the classical sources, out of which both authors always set off, and their conscious distance from the source, never by ignorance, is emphasized in the current research. This way, taking some passages as reference, it is analysed to what extent there is a mixture between myth and fiction in both works.