Publication:
Reformulaciones de la identidad judía en los albores del siglo XX: Ahad Ha'am y el espíritu nacional judío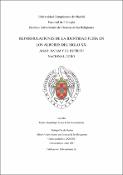 Authors
Advisors (or tutors)
Editors
Abstract
El propósito de este trabajo es analizar los intercambios culturales entre judaísmo y sionismo, con especial atención al papel de la Biblia y a las reformulaciones de la identidad judía que se derivan de este entrecruzamiento. En primer lugar, se presentará la figura y el pensamiento de Ahad Ha'am, máximo exponente del sionismo espiritual. En segundo lugar, se llevará a cabo un análisis, en tres de sus ensayos, de la función y el significado de las citas y las alusiones bíblicas que aparecen en ellos. Finalmente, se concluirá que la secularización, en de la relación entre judaísmo y sionismo, no parece haber provocado una división entre ámbito religioso y laico. En este sentido, la Biblia no abandonó su centralidad en ninguno de los dos casos, sin embargo, el sionismo distorsionó la relación hermenéutica tradicional del judaísmo con las Escrituras. En el caso de Ahad Ha'am se verá como este intelectual, pondrá la Biblia al servicio de su propia visión del judaísmo.
The purpose of this paper is to analyze the cultural exchanges between Judaism and Zionism, paying special attention to the role of the Bible and the reformulations of Jewish identity that derive from this intertwining. First, the figure and thought of Ahad Ha'am, the leading exponent of spiritual Zionism, will be presented. Secondly, an analysis will be carried out, in three of his essays, of the function and meaning of the biblical quotations and allusions that appear in them. Finally, it will be concluded that secularization, in its relationship between Judaism and Zionism, does not seem to have caused a division between the religious and secular spheres. In this sense, the Bible did not lose its centrality in either case, however, Zionism distorted the traditional hermeneutical relationship of Judaism with the Scriptures. In the case of Ahad Ha'am it will be seen how this intellectual will put the Bible at the service of his own vision of Judaism.