Publication:
Estudios de la estructura nuclear de núcleos exóticos, los casos del ³¹Ar y ³³Ar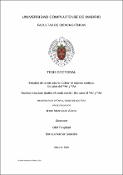 Authors
Advisors (or tutors)
Editors
Publisher
Universidad Complutense de Madrid
Abstract
En esta tesis se presentan los resultados del diseño, puesta a punto, medida y análisis de resultados del experimento IS577 realizado en ISOLDE-CERN. En este experimento se midió la desintegración beta de dos núcleos atómicos exóticos: ³¹Ar y ³³Ar. Son núcleos alejados del valle de la estabilidad y se desexcitan mediante la emisión de protones (tras la desintegración beta), fenómemo que solo se da en núcleos deficientes en neutrones en este caso con Z>N, altamente inestables. La energía disponible para que se produzca la desintegración beta es grande y además la energía de enlace de un protón es muy baja; como consecuencia, varios canales de desintegración resultan accesibles, de forma que se pueblan niveles ligados (emisión gamma) y no ligados dándose el proceso de emisión de protones. Nuestro objetivo es estudiar mediante la espectroscopía de protones y de radiación gamma, los mecanismos por los que se producen dichas emisiones, así como estudiar la estructura nuclear de los núcleos de cloropoblados en la desintegración beta de ³¹Ar y ³³Ar...
This thesis presents the results of the design, commissioning, measurement and analysis of the results of the IS577 experiment carried out at ISOLDE-CERN. In this experiment, the decays of two exotic atomic nuclei were measured: ³¹Ar y ³³Ar. They are nuclei far from the valley of stability and they are de-excited by the emission of protons (after beta decay), a phenomenon that only occurs in neutron-deficient nuclei in this case with Z>N, highly unstable. The energy window for beta emission is large and the proton separation energy is very low; as a consequence, many decay channels are open, and bound and unbound levels are populated in the daughter nucleus allowing for the proton emission process. Our objective is to study, by means of proton and gamma radiation spectroscopy, the mechanisms by which these emissions are produced, as well as to study the nuclear structure of the chlorine nucleipopulated in the beta decay of ³¹Ar y ³³Ar...
Description
Tesis de la Universidad Complutense de Madrid, Facultad de Ciencias Físicas, leída el 23/11/2018
Collections