Publication:
Implicación de la generación y reparación de roturas del DNA en el desarrollo de la retina del ratón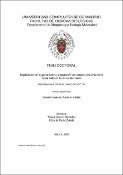 Authors
Advisors (or tutors)
Editors
Publisher
Universidad Complutense de Madrid
Abstract
El desarrollo de la arquitectura y conectividad del sistema nervioso requiere de tres grandes mecanismos finamente coordinados: la proliferación, la diferenciación y la muerte celular programada. Durante el desarrollo del sistema nervioso en general, y de la retina en particular, se producen varias fases de muerte apoptótica, incluyendo una fase de muerte neural temprana que afecta a neuroblastos y a neuronas al inicio de su proceso de diferenciación, cuya función aún no está clara. La existencia de mosaicismo somático en el sistema nervioso, postulada en 1963, ha sido demostrada recientemente, observándose que es un evento frecuente producido durante el proceso de neurogénesis. Sin embargo, aún se desconoce el mecanismo que lo genera. Diversos modelos murinos deficientes en proteínas de reparación de roturas de doble hebra del DNA por la vía de unión de extremos no homólogos (NHEJ) presentan un fenotipo severo en el desarrollo neural, con un incremento drástico de la muerte temprana de neuronas inmaduras, lo que sugiere que la generación y reparación de roturas del DNA podrían estar implicadas en el proceso de neurogénesis. Se ha propuesto que la retrotransposición de LINE-1 actúe como una fuente necesaria de roturas del DNA durante el desarrollo embrionario y que su actividad esté implicada de manera directa en la generación de diversidad neuronal. Por ello, en el presente estudio analizaremos el papel in vivo en el desarrollo neural de proteínas de generación y reparación de roturas de DNA de doble hebra, así como su relación con la transposición de LINE-1...
During neural development, orchestrated proliferation, differentiation and cell death processes are necessary to achieve the complex cytoarchitecture and connectivity of the nervous system. Concerning cell death, several phases of apoptosis occur during retinal development, including an early one that affects neuroblasts and recently born neurons, and whose function in not well understood. The existence of somatic mosaicism in the nervous system, first postulated in 1963, has been recently demonstrated: actually, it is a frequent process that takes place during neurogenesis. However, the mechanisms that generate it are still unknown. Several genetically-modified mouse model systems defective in Non Homologous End Joining (NHEJ) DNA break repair pathway present a dramatic phenotype during neural development, characterized by massive apoptosis of immature neurons. These data suggest a possible function of DNA breaks generation and repair in the neurogenic process. LINE-1 retrotransposition has been suggested to act as a necessary source of DNA breaks during embryonic development that plays a crucial role in the generation of neural diversity. Hereby, we study the in vivo requirement of proteins involved in a DNA double-strand break generation and repair pathway, for proper neural development, and their relationship with LINE-1 retrotransposition..
Description
Tesis inédita de la Universidad Complutense de Madrid, Facultad de Ciencias Biológicas, Departamento de Bioquímica y Biología Molecular I, leída el 06-11-2015
Collections