Publication:
El Servicio Europeo de Acción Exterior: génesis de una diplomacia europea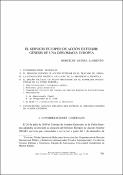 Authors
Advisors (or tutors)
Editors
Abstract
El 26 de junio de 2010 finalmente se aprueba la Decisión que organiza el Servicio Europeo de Acción Exterior, una de las instituciones claves del Tratado de Lisboa para reforzar el papel de la Unión Europea en la escena internacional. Esa Decisión es fruto de una ardua negociación donde el Parlamento Europeo se erige como protagonista. El objetivo de este estudio es proceder a un primer estudio y valoración del Servicio Europeo de Acción Exterior desde su posición como organismo autónomo en el sistema institucional, sus funciones, su personal, su organización y su papel en la cooperación para el desarrollo dada la importancia de esta innovación para el sistema político europeo en su conjunto
On 26 June 2010, the Council Decision setting up the European External Action Service was finally passed. EEAS is one of the Lisbon Treaty new institutions aiming to enhance the European Union role in world politics. The Council Decision was possible only after hard institutional bargaining in which the European Parliament was the main actor. The aim of this paper is assessing the institutional position of this new body, its tasks, its staff, its organisation and its role in development cooperation, due to its relevance for the entire European political system.
Collections