Publication:
In Vitro functional and structural characterization of a synthetic clinical pulmonary surfactant with enhanced resistance to inhibition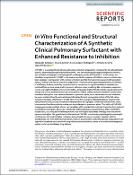 Advisors (or tutors)
Editors
Abstract
CHF5633 is a novel synthetic clinical pulmonary surfactant preparation composed by two phospholipid species, dipalmitoyl phosphatidylcholine (DPPC) and palmitoyloleoyl phosphatidylglycerol (POPG), and synthetic analogues of the hydrophobic surfactant proteins SP-B and SP-C. In this study, the interfacial properties of CHF5633 in the absence and in the presence of inhibitory serum proteins have been assessed in comparison with a native surfactant purifed from porcine lungs and with poractant alpha, a widely used clinical surfactant preparation. The study of the spreading properties of CHF5633 in a Wilhelmy balance, its ability to adsorb and accumulate at air-liquid interfaces as revealed by a multiwell fuorescence assay, and its dynamic behavior under breathing-like compression-expansion cycling in a Captive Bubble Surfactometer (CBS), all revealed that CHF5633 exhibits a good behavior to reduce and sustain surface tensions to values below 5 mN/m. CHF5633 shows somehow slower initial interfacial adsorption than native surfactant or poractant alpha, but a better resistance to inhibition by serum proteins than the animal-derived clinical surfactant, comparable to that of the full native surfactant complex. Interfacial CHF5633 flms formed in a Langmuir-Blodgett balance coupled with epifuorescence microscopy revealed similar propensity to segregate condensed lipid domains under compression than flms made by native porcine surfactant or poractant alpha. This ability of CHF5633 to segregate condensed lipid phases can be related with a marked thermotropic transition from ordered to disordered membrane phases as exhibited by diferential scanning calorimetry (DSC) of CHF5633 suspensions, occurring at similar temperatures but with higher associated enthalpy than that shown by poractant alpha. The good interfacial behavior of CHF5633 tested under physiologically meaningful conditions in vitro and its higher resistance to inactivation by serum proteins, together with its standardized and well-defned composition, makes it a particularly useful therapeutic preparation to be applied in situations associated with lung infammation and edema, alone or in combined strategies to exploit surfactant-facilitated drug delivery.
Collections