Publication:
Vida y obra de Lou Andreas Salome: una aportación al estudio psicoanalítico de la feminidad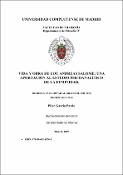 Authors
Advisors (or tutors)
Editors
Publisher
Universidad Complutense de Madrid, Servicio de Publicaciones
Abstract
En este trabajo se investiga el pensamiento de Lou Andreas Salomé, y su evolución desde la filosofía al psicoanálisis. Se expone, a través de su biografía, la formación y desarrollo de sus ideas, entrecruzadas con sus vivencias, y los intercambios co Paul Rée y con Nietzche, de quien fue excepcional interlocutora. Se estudian los temas fundamentales de su interés : Dios, la religión, el conflicto entre entrega e individualidad, el sentido de la vida, y, de manera particular, el tema de la mujer, su independencia, sentimientos y relaciones amorosas. Se analiza el trabajo que hizo sobre la personalidad y obra de Nietzsche y su influencia en Lou. También su relación con Rilke, la cercanía de sus pensamientos, la comprensión del sufrimiento del poeta, intercambios e influencias mutuas. A lo largo del trabajo se pone de relieve cómo esas ideas e intereses de Lou, fortalecidas en esas relaciones, la van llevando hacia el psicoanálisis, en donde encuentra la forma de entender algunas de esas cuestiones. Se analiza, de forma especial, la cercanía de su relación con Freud, y la importancia de su intercambio, que la convierte, de nuevo, en interlocutora excepcional con el fundador del psicoanálisis. Se subraya la intensidad y profundidad de ese intercambio, tanto desde lo teórico como desde lo personal. Se pone de manifiesto cómo integra su pensamiento filosófico en el psicoanalítico. Se expone el reconocimiento de Freud a sus ideas y cómo buscó, a través de ella, entender algo más de la mujer, así como la aportación que Lou fue haciendo al trabajo de Freud. Se considera con especial atención su contribución al tema del narcisismo y de la mujer.[ABSTRACT] This PhD thesis work investigates the thinking of Lou Andreas Salome, and its evolution from philosophy to psychoanalysis. Through her biography, the work displays the formation and development of her ideas, mixed with her personal experiences and exchanges with Paul Rée and Nietzsche, with whom she was an exceptional conversation partner. The thesis studies the fundamental subjects that interested her: God, religion , the conflict between giving and individuality, the meaning of life, and particularly, women, their independence, feelings, and love realtionships. The thesis also anlyses Louẃork on the personality and writing of Nietzsche and the influence this had on her own work. Also her relationship with Rilke, their close way of thinking, her comprehension of the poetś suffering, exchanges and mutual influences. Throughout this work it is revealed how Louś ideas and interests, straightened by these relationships, take her towards psychoanalysis, where she finds the way to understand some of these questions. In particular, the work analyzes the closeness of her relationship with Freud, and the importance of their special interchanges, which convert her again in an intensity and depth of that interchange, both from the theorical as well as the personal point of view. It also states how she integrates her philosophical thinking into the psychoanalytical. The work explains Freudś acknowledgement of Louś ideas and how through her, Freud searched a better understanding of women; it also explains how Freudś work was influenced by Louś perceptions. Special attention has been given to her contribution to the subject of narcissism and women.
Description
Tesis de la Universidad Complutense de Madrid, Facultad de Filosofía, Departamento de Filosofía IV, leída el 05-07-2008
Collections