Publication:
Toxoplasmosis y neosporosis en rumiantes domésticos: normalización de modelos animales y evaluación de nuevos fármacos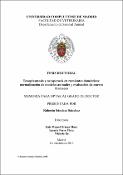 Files
Authors
Editors
Publisher
Universidad Complutense de Madrid
Abstract
Toxoplasma gondii y Neospora caninum son parásitos apicomplejos muy relacionados filogenéticamente y considerados como unas de las principales causas de aborto infeccioso en pequeños rumiantes y ganado vacuno respectivamente en todo el mundo. Sin embargo, recientemente, la importancia de N. caninum como agente causante de abortos en ganado ovino se ha incrementado enormemente. T. gondii en pequeños rumiantes y N. caninum en ganado vacuno presentan una elevada prevalencia y producen importantes pérdidas económicas como consecuencia del fallo reproductivo. T. gondii en ganado ovino produce principalmente aborto tras una primoinfección con ooquistes durante la gestación mientras que N. caninum puede producir abortos tras una infección durante la gestación o tras la recrudescencia de una infección crónica. Para el control de la toxoplasmosis en ganado ovino existe una vacuna viva atenuada comercializada (ToxovaxTM), la cual reduce parcialmente los abortos asociados a T. gondii, mientras que la la única vacuna comercializada hasta el momento para la neosporosis en ganado vacuno (Neoguard), basada en taquizoitos muertos, se ha retirado del mercado debido a su baja eficacia. En relación al tratamiento, se han probado diferentes clases de fármacos tales como macrólidos, poliéteres ionóforos, inhibidores de la síntesis del folato, quinolonas y triazinas y han mostrado eficacia moderada. Por lo tanto, hasta el momento, no hay fármacos disponibles para el tratamiento de la toxoplasmosis y la neosporosis en rumiantes. Asi pues, el desarrollo de medidas de control es de gran importancia...
Toxoplasma gondii and Neospora caninum are apicomplexan parasites very related phylogenetically and considered one of the main causes of infectious abortion in small ruminants and cattle respectively worldwide. However, recently, the importance of N. caninum as causative agent of abortion in sheep has greatly increased. T. gondii in small ruminants and N. caninum in cattle show high prevalence and produce important economic losses as a consequence of the reproductive failure. T. gondii in sheep mainly induces abortion triggered by primoinfection with oocysts during pregnancy, while N. caninum related abortions can be found after infection during pregnancy or recrudescence. For the control of toxoplasmosis in sheep there is a commercial attenuated live vaccine available (ToxovaxTM), which partially reduced T. gondii related abortions. No vaccine is available in the market for the control of neosporosis in cattle, since the only vaccine commercialised so far (Neoguard), based on killed tachyzoites, was withdrawn from the market on account of the low efficacy shown. Concerning treatment, different drug classes such as macrolide antibiotics, polyether ionophore antibiotics, folate inhibitors, quinolones and triazinones have been evaluated in ruminants showing moderate efficacy. Therefore, to date, no drug is available for the treatment of toxoplasmosis and neosporosis in ruminants and the improvement and development of control measures is of paramount importance.
Description
Tesis de la Universidad Complutense de Madrid, Facultad de Veterinaria, Departamento de Sanidad Animal, leída el 14-12-2018
Collections