Publication:
Dilemas sociales en el tráfico de vehículos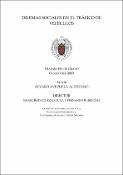 Authors
Advisors (or tutors)
Editors
Abstract
El flujo de tráfico define los estados en los que se encuentra una carretera con una serie de vehículos que circulan por ella. Esta carretera tiene unas normas de conducción que todos los vehículos deben cumplir, respetar la velocidad permitida, mantener una distancia entre los demás vehículos que sea segura, respetar los semáforos, las preferencias, etc. A la hora de cumplir estas normas de conducción, el conductor tiene un tiempo de reacción en la toma de decisiones lo que origina aceleraciones, deceleraciones o parones Esto puede provocar un tráfico más denso originado por lo que se conoce como acordeones en el tráfico. En este trabajo diseñaremos dos carreteras con dos carriles cada una y una serie de vehículos de los cuales iremos modificando su conducta a la hora de conducir y tomar decisiones. Implementaremos tres etapas: Primero, utilizaremos unas condiciones simples, seguras e iguales para todos los conductores para observar qué pasaría en un mundo en el que todos fuéramos iguales. En segundo lugar, utilizaremos un algoritmo para averiguar cuáles son los factores que determinan la conducción más óptima y el modelo de tráfico más eficiente donde todos los vehículos tardan de media el menor tiempo desde que inician su viaje hasta que llegan a su destino. En último lugar copiaremos los valores más óptimos obtenidos de la segunda etapa y se los pondremos a los diferentes vehículos para comprobar la realidad del tráfico si todos los conductores tuvieran como modelo de conducción este modelo más óptimo o si por el contrario crean acordeones de tráfico y aumentan el tiempo de ejecución.
Traffic flow defines the states in which a road is found with a number of vehicles traveling on it. This road has driving rules that all vehicles must comply with, respect the permitted speed, maintain a safe distance between other vehicles, respect traffic lights, preferences, etc. When it comes to complying with these driving rules, the driver has a reaction time in making decisions, which causes acceleration, deceleration or stoppages. This can cause denser traffic caused by what is known as accordions in traffic. In this work we will design two highways with two lanes each and a series of vehicles whose behavior we will modify when driving and making decisions. We will implement three stages: First, we will use simple, safe and equal conditions for all drivers to see what would happen in a world where we were all equal. Secondly, we will use an algorithm to find out what are the factors that determine the most optimal driving and the most efficient traffic model where all vehicles take on average the shortest time from when they start their journey until they reach their destination. Lastly, we will copy the most optimal values obtained from the second stage and we will apply them to the different vehicles to verify the reality of traffic if all drivers had this most optimal model as their driving model or if, on the contrary, they create traffic accordions and increase execution time.
Description
Trabajo de Fin de Grado en Ingeniería Informática, Facultad de Informática UCM, Departamento de Sistemas Informáticos y Computación, Curso 2022/2023