Publication:
Modelos "in vitro" de la infección por "Besnoitia besnoiti" y su empleo en estudios de patogenia molecular y cribado de fármacos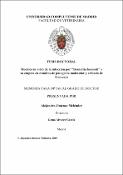 Authors
Advisors (or tutors)
Editors
Publisher
Universidad Complutense de Madrid
Abstract
La besnoitiosis bovina es una enfermedad de curso crónico y debilitanteo casionada por el protozoo apicomplejo formador de quistes Besnoitia besnoiti. Esta enfermedad ocasiona considerables pérdidas económicas, fundamentalmente en las explotaciones de vaca nodriza. En la actualidad, dicha enfermedad se considerare emergente en Europa debido a su notable expansión geográfica desde zonas donde la enfermedad ha sido tradicionalmente endémica (como los Pirineos y la región del Alentejo en Portugal), y a un aumento de su prevalencia. Uno de los factores que ha contribuido en gran medida a esta diseminación es la ausencia de tratamientos o vacunas eficaces. Con estos antecedentes, el desarrollo de modelos in vitro es clave para estudiar la interacción patógeno-hospedador y para identificar posibles candidatos terapéuticos y vacunales. Por tanto, el objetivo de esta tesis doctoral fue el desarrollo y estandarización de nuevos modelos in vitro de infección por B. besnoiti y su empleo en estudios de patogenia molecular y cribado de fármacos...
Bovine besnoitiosis is a chronic and debilitating disease caused by the cyst-forming apicomplexan parasite Besnoitia besnoiti. This disease is responsible for considerable economic looses, mostly in suckler-cow farms. Currently, this disease is considered as reemerging in Europe due to its geographical expansion from areas where the disease ha sbeen considered as traditionally endemic (Pyrinees and Alentejo region in Portugal) together with an increase in its prevalence. One of the factors that has contributed greatly to this dissemination is the absence of efficient treatments and vaccines. With this background, the development of in vitro models of infection arises as a key tool in order to explore the parasite-host interaction, as well as to identify new therapeutic and vaccinal targets. Thus, the objective of the present doctoral thesis has been the development and standardization of novel in vitro models of B. besnoiti infection and their applications for molecular pathogenesis studies and drug screenings...
Description
Tesis inédita de la Universidad Complutense de Madrid, Facultad de Veterinaria, Departamento de Sanidad Animal, leída el 18-11-2019.
Collections