Publication:
Narrativas de resistencia: análisis de tres organizaciones de mujeres en Colombia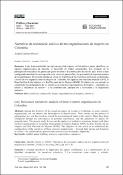 Authors
Advisors (or tutors)
Editors
Publisher
Universidad Complutense de Madrid
Abstract
Entre la diversidad del movimiento social de mujeres en Colombia se puede identificar, en algunas organizaciones de mujeres, el desarrollo de relatos compartidos. Son producto de la participación sexuada en la guerra que giran en torno a la construcción de paz del país. Estos se han configurado mediante la convergencia entre vivencias personales y la generación de espacios propios de resignificación. El presente estudio se centra en el análisis de las narrativas colectivas conformadas a través de tres organizaciones de mujeres en Colombia: la Organización Femenina Popular (OFP), la Ruta Pacífica de las Mujeres y la Red Nacional de las Mujeres (RNM). El objetivo de este artículo es comprender la configuración de las narrativas de estas tres organizaciones de mujeres —mediante sus relatos y dinámicas de acción— y la confrontación, apropiación y resistencia a la hegemonía narrativa.
. Among the diversity of the social movement of women in Colombia, in some women's organizations, we can observe the development of shared stories. Those stories are the product of participation in a war that revolves around the construction of peace in the country. These have been configured through the convergence of personal experiences, and the generation of spaces for resignification. The present study focuses on the analysis of collective narratives formed with three women's organizations in Colombia: Organización Femenina Popular (OFP), La Ruta Pacífica de las Mujeres and Red Nacional de Mujeres (RNM). The objective of this article is to understand the configuration of the narratives of these women's organizations —through their stories and dynamics of action— the confrontation, appropriation and resistance to narrative hegemony.
Collections