Publication:
Funciones de la autofagia en el desarrollo de la retina: metabolismo, diferenciación y muerte celular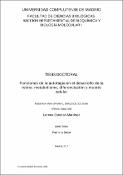 Authors
Advisors (or tutors)
Editors
Publisher
Universidad Complutense de Madrid
Abstract
En esta Tesis Doctoral hemos querido entender el papel de la autofagia y la mitofagia en el desarrollo de la retina de ratón. Nuestros datos muestran que la autofagia es un proceso activo durante el desarrollo de la retina de ratón, sobre todo en los estadios embrionarios iniciales, siendo las células ganglionares las que presentan un mayor flujo de autofagia. Este proceso presenta diversas funciones durante la fisiología de la retina embrionaria. En primer lugar, hemos demostrado que existen diferencias en los niveles de masa mitocondrial en las retinas de embriones en E13.5 debido a la degradación de mitocondrias por mitofagia únicamente en la región central de la retina en dicho estadio. Por otro lado hemos demostrado que la autofagia es necesaria para mantener unos niveles de ATP adecuados para la exposición de fosfatidil-serina en la superficie de las células apoptóticas, lo que permite su reconocimiento y degradación. Esta función no es universal, ya que la inhibición de autofagia no produce una acumulación de células apoptóticas en la región central, donde la masa mitocondrial es menor. Por otro lado, la mitofagia que se produce en la zona central de la retina contribuye a la muerte neural temprana localizada en dicha región. Además, esa degradación mitocondrial se produce de manera generalizada en toda la retina en un estadio del desarrollo mas avanzado, E15.5, debido a la activación del proceso de mitofagia regulado por hipoxia y NIX. En este caso, la mitofagia no solo contribuye a la muerte fisiológica de la retina, si no que también es responsable de un cambio metabólico hacia glicólisis necesario para la correcta diferenciación de las células ganglionares de la retina. Además, existe una estrecha relación entre el metabolismo, la masa mitocondrial y la diferenciación, ya que la modulación directa de la glicólisis produce cambios en los niveles de mitocondrias y altera la diferenciación de células ganglionares. Ese cambio metabólico mediado por mitofagia, también podría estar implicado en la polarización de macrófagos hacia tipo proinflamatorio M1 y en la diferenciación temprana de células stem.
In this PhD we wanted to understand the role of autophagy and mitophagy in the developing mouse retina. Our data show that autophagy is an active process during development of the mouse retina, especially in the early embryonic stages, being retinal ganglion cells which have a greater autophagy flux. This process has several functions during embryonic retina physiology. First, we have shown that there are differences in mitochondrial mass levels in the retinas of E13.5 embryos due to degradation of mitochondria by mitophagy only in the central region of the retina in that stage. Furthermore we have shown that autophagy is necessary to maintain ATP levels suitable for the exposure of phosphatidylserine on the surface of apoptotic cells, allowing their recognition and degradation. This function is not universal, since inhibition of autophagy doesńt lead to an accumulation of apoptotic cells in the central region where the mitochondrial mass is lower. Furthermore, the mitophagy that occurs in the central area of the retina contributes to early neural cell death located in that region. Moreover, the mitochondrial degradation occurs widely in the entire retina in a more advanced stage of development, E15.5 due to activation of mitophagy process regulated by hypoxia and NIX. In this case, mitophagy not only contributes to the physiological cell death of the retina, if not it is also responsible for a metabolic shift towards glycolysis required for proper differentiation of retinal ganglion cells. Furthermore, there is a close relationship between the metabolism, mitochondrial mass and differentiation, since direct modulation of glycolysis lead to changes in mitochondrial levels and disturb the differentiation of retinal ganglion cells. That metabolic change mediated by mitophagy also may be involved in macrophage polarization to proinflammatory type M1 and to early differentiation of stem cells.
Description
Tesis inédita de la Universidad Complutense de Madrid, Facultad de Ciencias Biológicas, Sección Departamental de Bioquímica y Biología Molecular I, leída el 8 de Julio de 2016
Collections