Publication:
La biblioteca de la Asociación de la Prensa de Madrid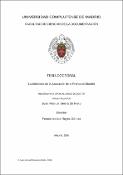 Files
Authors
Advisors (or tutors)
Editors
Publisher
Universidad Complutense de Madrid
Abstract
La Asociación de la Prensa de Madrid (APM) es la mayor y más influyente organización de periodistas de España agrupados en la Federación de Asociaciones de Periodistas de España (FAPE) por lo que está vinculada a las demás agrupaciones provinciales. Tiene entre sus asociados y directivos a personalidades de relieve nacional e internacional (Miguel Moya, su primer presidente, José Francos Rodríguez, Alejandro Lerroux, Vicente Blasco Ibáñez, Azorín, Concha Espina, Josefina Carabias, Manuel Chaves Nogales, Camilo José Cela… entre otros muchos). La APM nació en febrero de 1895 aunque fue en el mes de mayo de ese mismo año cuando celebró su acto verdaderamente fundacional. Nace, en principio, como agrupación asistencial y para defender los derechos de los periodistas, tanto en el terreno laboral como en el profesional. Busca los mismos fines asistenciales (farmacia, asistencia médica, economato) que otras asociaciones similares, pero muy pronto amplía sus servicios: biblioteca, actos culturales, clases de idiomas, de taquigrafía… De los 173 asociados iniciales cofundadores, ha llegado a los 7.521 con los que cuenta hoy. La APM es una institución privada sin ánimo de lucro. La biblioteca está compuesta por una rica colección iniciada el año mismo de su fundación, 1895, y que ha llegado hasta hoy con 13.208 volúmenes y una importante sección de medios de comunicación. Las primeras donaciones, todavía en el S.XIX, fueron de la reina María Cristina de Habsburgo-Lorena, Ministerio de Gracia y Justicia, Ministerio de Fomento, Congreso de los Diputados, Instituto Geográfico y Estadístico. Desde entonces ha sufrido tantos avatares de todo orden (desatenciones, cambios de sede, incendios, escasez de medios, una guerra civil…) que su conformación ha resultado una difícil tarea. En algunos periodos de su historia no pasó de ser un mero instrumento simbólico de prestigio. Sin embargo, siempre ha gozado del interés y atención de numerosos asociados que han ido donando libros de sus bibliotecas particulares...
The Press Association of Madrid (APM) is the largest and most influential Spanish organization of journalists, grouped in the Federation of Journalists Associations of Spain (FAPE) being also linked to other provincial partnerships. It has national and international important personalities among its members and managers (Miguel Moya, its first president, José Francos Rodriguez, Alejandro Lerroux, Vicente Blasco Ibañez, Azorín, Concha Espina, Josefina Carabias, Manuel Chaves Nogales, Camilo José Cela ... as many others). The APM was born in February 1895, although it was in May of that year when it really celebrated its original act. Initially, he was founded to assist and defend the rights of journalists, both at work and in the professional field. It searches the same welfare purposes (pharmacy, medical care, commissary) like other similar associations, but soon expands its services to library, cultural events, language and stenography classes, ... Of the 173 initial partners who founded the Association, it has reached today to 7.521 members. The APM is a non-profit private institution. The library consists of a books and documents rich collection which begun the same year it was founded, 1895, and has reached today to 13,208 volumes and a significant section of media. The first donations, still in the nineteenth century, were given from Queen Maria Cristina of Habsburgo-Lorena, Ministry of Grace and Justice, Ministry of Development, Congress of Deputies, Institute of Geography and Statistics. Since then, it has suffered all kind of difficulties (inattention, changes of head office, fire, shortage of resources, civil war ...) so its formation has founded a difficult task to realize, being, in some periods of its history, no more than a simple symbolic instrument of prestige. However, it has always had the interest and attention of many partners, who have been giving books from their personal libraries...
Description
Tesis inédita de la Universidad Complutense de Madrid, Facultad de Ciencias de la Documentación, leída el 02/02/2016
Collections