Publication:
Determinación de distintos parámetros relacionados con el estado nutricional en músicos. Importancia para el desarrollo de su actividad profesional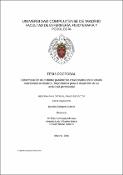 Files
Authors
Editors
Publisher
Universidad Complutense de Madrid
Abstract
Los músicos constituyen un colectivo profesional en los que la demanda constante del perfeccionamiento de la técnica instrumental, la elevada competitividad y los altos niveles de angustia, son condicionantes, que pueden originar una situación de riesgo para su salud. En los últimos años la comunidad científica se ha interesado por los efectos de la música derivados tanto de su uso como de su praxis. Es muy limitada la evidencia disponible sobre la adaptación fisiológica durante los conciertos, momento culminante de la práctica profesional, resultando interesante ahondar en este sentido, para llegar a una excelencia en los cuidados. OBJETIVOS Conocer determinados parámetros relacionados con el estado nutricional y la actividad física, con el fin de establecer recomendaciones específicas que puedan contribuir a mejorar el estado de salud de los profesionales de la música. POBLACIÓN Y METODOLOGÍA Estudio descriptivo transversal, realizado entre 2010-2014 y cuya la población diana son músicos profesionales miembros de orquestas y grupos de cámara. Las muestras son de conveniencia. Consta de dos partes: una donde se analizan ciertos parámetros antropométricos, (talla, peso, así como otros relacionados con el riesgo de sufrir alteraciones cardiometabólicas) y de la actividad física; la otra parte relativa a los hábitos alimentarios. Para valorar la actividad física y la carga de trabajo, se utilizan métodos combinados así como la frecuencia cardiaca, medida durante los ensayos generales/conciertos. Por su parte, la tasa de sudoración se obtuvo por la diferencia de peso antes y después de la actuación. Para obtener información sobre los hábitos alimentarios, se utiliza el llamado "recuerdo de 24-horas" aplicado a cada participante...
The musicians are a professional group in which demand constant improvement of instrumental technique, high competitiveness and high levels of anxiety are conditions that may cause a risk to your health. In recent years the scientific community has been interested in the effects of music derived from both its use and its praxis. Very limited available evidence on the physiological adaptation during the concert highlight of practice resulting delve interesting in this regard, to reach excellence in care. OBJECTIVES Knowing certain related with nutritional status and physical activity, in order to make specific recommendations that can help improve the health status of music professionals parameters. POPULATION AND METHODOLOGY Cross-sectional study, conducted between 2010-2014 and whose target population are professional musicians from orchestras and chamber groups. Samples are convenience. It consists of two parts: one where certain anthropometric parameters (height, weight, and other related risk of cardiometabolic disorders) and physical activity are analyzed; on the other hand eating habits. Both inclusion criteria and exclusion were established. To assess physical activity and workload, combined methods and heart rate measured during the general / concerts tests are used. Meanwhile, sweat rate was obtained by the difference in weight before and after the performance. For information on eating habits, the so-called "memory of 24-hour" applied to each participant used...
Description
Tesis inédita de la Universidad Complutense de Madrid, Facultad de Enfermería, Fisioterapia y Podologia, Departamento de Enfermería, leída el 15-01-2016
Collections