Publication:
Anatomía palpatoria de miembros inferiores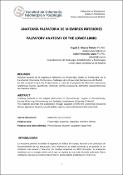 Advisors (or tutors)
Editors
Abstract
Material docente de la asignatura Valoración en Fisioterapia. Grado en Fisioterapia, de la Facultad de Enfermería, Fisioterapia y Podología, de la Universidad Complutense de Madrid. En este material se describe la exploración a través de la palpación de diferentes estructuras anatómicas (huesos, ligamentos, tendones, vientres musculares, elementos vasculonerviosos) del miembro inferior.
Teaching material of the subject Assessment in Physiotherapy. Degree in Physiotherapy, Faculty of Nursing, Physiotherapy and Podiatry, Complutense University of Madrid. This material describes the exploration through palpation of different anatomical structures (bones, ligaments, tendons, muscle bellies, vascular-nerve elements) of the lower limb.
Citation
1. Tixa S. Atlas de Anatomía Palpatoria. Tomo 2. Miembro Inferior. Elsevier - Health Sciences Division; 2014. 2. Souza RB, Carvalho RM, Capelli AMG, Ribeiro MC, Vandresen Filho S, Simionato C, Silva LH, Oda DS, Lavado EL. Eficacia del entrenamiento teórico-práctico en anatomía palpatoria empleada a los estudiantes de la carrera de Fisioterapia. Int. J. Morphol., 22(3): 195-200, 2004. http://dx.doi.org/10.4067/S0717-95022004000300004 3. Cattrysse E. A manual therapist's guide to surface anatomy & palpation skills. Manual Therapy. 2003;8(3):188. 4. Muscolino J. Manual de Palpación Ósea y Muscular con Puntos Gatillo, Patrones de Referencia. 2ª ed. Médica Panamericana; 2017. 5. Putz R, Pabst R. Sobotta. Atlas de Anatomía Humana. Tomo 2. Tronco, vísceras y miembro inferior. 22nd ed. Medica Panamericana; 2006.