Publication:
La Doctrina de la Salvación en Porfirio: Características y Límites del Universalismo platónico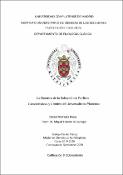 Authors
Advisors (or tutors)
Editors
Abstract
El objetivo de este trabajo es aportar una serie de claves sobre la relación entre el cristianismo y el paganismo, a comienzos de la Antigüedad Tardía, a través de un estudio sobre la obra del filósofo neoplatónico Porfirio. En primer lugar, analizaremos las dimensiones de las disputas anticristianas del filósofo para indicar, posteriormente, cómo estas se articulan a través del problema de la salvación. Daremos una breve caracterización de la salvación en el sistema filosófico de Porfirio. Finalmente, comentaremos cómo las diferencias que el neoplatónico y los cristianos dieron al mismo problema indican la fractura insuperable entre dos modelos discursivos en conflicto que representarán las claves fundamentales de la evolución política y religiosa del Imperio Romano en el tránsito del siglo III al IV.
The objective of this work is to provide a series of keys about the relationship between christianity and paganism, at the begining of Late Antiquity, through a study on the neoplatonic philosopher Porphyry's work. At first place, we will analize the dimensions of the philosopher's antichristian disputes to indicate, later, how these are articulated through the problem of salvation. We will give a brief characterization of salvation in Porphyry's philosophical system. Finally, we will comment how the difference that the neoplatonic philosopher and the christians gave to the same problem indicates the insuperable fracture between two discursive models in conflict that will represent the fundamental keys of Roman Empire's politic and religious evolution during the transition from the third to the fourth century.