Publication:
El Instituto Homeopático y Hospital de San José de Madrid y su entorno profesional en el último tercio del siglo XIX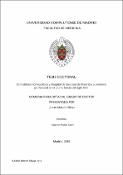 Files
Authors
Advisors (or tutors)
Editors
Publisher
Universidad Complutense de Madrid
Abstract
Al comienzo de esta memoria mostramos cómo se inició la iniciativa, cómo se gestó el proyecto y cómo se desarrolló desde 1878 hasta 1901, esta institución benéfica-docente, denominada Instituto Homeopático y Hospital de San José (IHyHSJ), en Madrid, como resultado de la fundación otorgada por el doctor José Núñez Pernía (1805-1879), Marqués de Núñez. Mostramos una historia de la institución dividida en épocas y etapas correlativas que recogen los procesos más significativos en la vida de este centro docente y asistencial a lo largo de ese período. Analizamos con especial detalle dos grandes aspectos, que desarrollamos en amplios capítulos...
At the beginning of this memory, we show how the initiative started, how theproject was gestated and how it was developed from 1878 to 1901, thisbenefice-teaching institution, called Instituto Homeopático y Hospital de SanJosé (IHyHSJ), in Madrid, as a result of the foundation granted by the doctorJosé Núñez Pernía (1805-1879), Marqués de Núñez. We show a history of theinstitution divided in correlative epochs and stages which include the mostsignificant processes in the life of this teaching and medical attendance centrethroughout that period. We analyse with special detail two great aspects,which we develop in large chapters...
Description
Tesis inédita de la Universidad Complutense de Madrid, Facultad de Medicina, leída el 10-03-2015
Collections