Publication:
Unimodular gravity and the gauge/gravity duality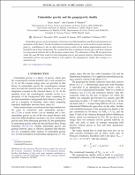 Authors
Advisors (or tutors)
Editors
Abstract
Unimodular gravity can be formulated so that transverse diffeomorphisms and Weyl transformations are symmetries of the theory. For this formulation of unimodular gravity, we work out the two-point and threepoint h mu nu contributions to the on shell classical gravity action in the leading approximation and for an Euclidean anti de Sitter background. We conclude that these contributions do not agree with those obtained by using general relativity due to IR divergent contact terms. The subtraction of these IR divergent terms yields the same IR finite result for both unimodular gravity and general relativity. Equivalence between unimodular gravity and general relativity with regard to the gauge/gravity duality thus emerges in a nontrivial way.
Description
© 2023 Amer Physical Soc ACKNOWLEDGMENTS We thank E. Álvarez for continuous and illuminating discussions. The work by C. P. Martin has been financially supported in part by the Spanish MICINN through Grant No. PGC2018-095382-B-I00
Collections