Publication:
Estudio comparativo entre la laminectomía tubular y la interlaminar endoscópica en el tratamiento de la Estenosis de Canal Lumbar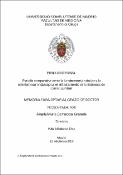 Authors
Advisors (or tutors)
Editors
Publisher
Universidad Complutense de Madrid
Abstract
Existen dos técnicas mínimamente invasivas para el tratamiento quirúrgico de la ECL: la laminectomía por abordaje tubular (LM) y por abordaje interlaminar endoscópico uniportal (LE). Estudios previos han demostrado que los resultados de la cirugía mínimamente invasiva son comparables a la cirugía tradicional (abierta) con la ventaja de promover la rehabilitación temprana y causar menor trauma de tejidos, sangrado operatorio, infecciones y estancia hospitalaria. Sin embargo, la mayoría de los estudios comparan cirugía abierta vs. LM, o cirugía abierta vs. LE, pero no hay estudios que comparen, entre ambas técnicas mínimamente invasivas, el grado de descompresión del canal espinal y del sacodural, y sus resultados clínicos...
Two minimally invasive surgical techniques (MIST) are available for treatment of lumbar spinal stenosis (LSS): tubular approach (UT) and uniportalfull-endoscopic interlaminar (EI) techniques. Compared with conventional open surgery, MIST provides similar surgical outcomes, less tissue injury, less intrasurgical bleeding, less infection rates and hospital stay, and promotes early rehabilitation. However, studies comparing surgical results (in terms of decompression percentage of the spinal canal and the dural sac) and clinical outcomes (in terms of improvement of symptoms and disability at follow-up) between both type of MIST are not available...
Description
Tesis de la Universidad Complutense de Madrid, Facultad de Medicina, Departamento de Cirugía, leída el 13-05-2019
Collections