Publication:
La agenda de ampliación de la UE como agenda de seguridad. El caso de los Balcanes occidentales. Liberalización de visados y gestión de la crisis de refugiados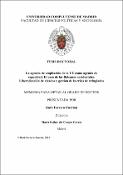 Files
Authors
Advisors (or tutors)
Editors
Publisher
Universidad Complutense de Madrid
Abstract
En este trabajo de abordará la forma en la que la UE se relaciona bilateralmente con los países de Balcanes Occidentales a través del principio de condicionalidad y cómo éste es utilizado de una manera más política que técnica en su aplicación. A partir de ahí es posible extrapolar esta acción concreta hacia cuáles son los procesos y los objetivos que persigue realmente. El punto de partida es el proceso de construcción de una Europa Amplia/Wider Europe y el de las formas que adopta en función de los intereses pragmáticos de los distintos actores que forman parte del proceso, especialmente, los EEMM. Es este el marco desde el que se analizan las dos políticas que constituyen el eje del trabajo, la política de liberalización de visados y el proceso de externalización de la política migratoria, en el contexto del proceso de ampliación de la UE hacia Balcanes Occidentales y su impacto en el proceso de europeización de estos países a través de la fórmula del principio de condicionalidad ya utilizada en ampliaciones anteriores...
This paper will address the way in which the EU relates bilaterally with the Western Balkan countries through the principle of conditionality and how it is used in a more political than technical way in its application. From there, it is possible to extrapolate this specific action towards what are the processes and objectives that it really pursues. The starting point is the process of building a Wide Europe / Wider Europe and the formsit adopts based on the pragmatic interests of the different actors that are part of the process, especially the MS. This is the framework from which the two policies that constitute the axis of the work are analyzed, the visa liberalization policy and the process of outsourcing migration policy, in the context of the EU enlargement process towards the Western Balkans and its impact on the process of Europeanization of these countries through the formula of the principle of conditionality already used in previous enlargements...
Description
Tesis inédita de la Universidad Complutense de Madrid, Facultad de Ciencias Políticas y Sociología, leída el 26-01-2021
Collections