Publication:
Epidemiología de la besnoitiosis bovina en España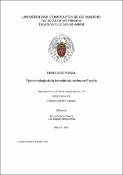 Files
Authors
Advisors (or tutors)
Editors
Publisher
Universidad Complutense de Madrid
Abstract
La besnoitiosis bovina es una enfermedad crónica y debilitante producida por el protozoo apicomplejo formador de quistes Besnoitia besnoiti. Puede llegar a ocasionar importantes pérdidas económicas, ya que afecta negativamente a los parámetros productivos y reproductivos ocasionando aborto, esterilidad en el macho, deterioro de la condición corporal y descenso de la producción lechera. Desde el año 2010 está considerada como una enfermedad re-emergente en Europa, ya que se ha observado un aumento del número de casos y una notable expansión de la enfermedad no solo en España sino también en otros países europeos. En España, hay dos zonas donde la enfermedad ha sido tradicionalmente endémica (los Pirineos y la Sierra de Urbasa-Andía), aunque en la actualidad, la enfermedad está extendiéndose por la mitad norte peninsular así como por el centro y suroeste del país. Las medidas de manejo que habitualmente se realizan en las explotaciones de ganado bovino en extensivo (monta natural y el uso de pastos comunales) son prácticas de riesgo para la transmisión del parásito. Sin embargo, las claves de dicha re-emergencia no se conocen con exactitud, aunque podría haber influído el aumento del censo de ganado bovino de carne gracias a las ayudas de la Política Agraria Común (PAC) y el creciente comercio de animales, sobre todo de sementales, sin control sanitario previo. Este hecho, posiblemente, sea la causa de la aparición de varios brotes epidémicos de la enfermedad en diversos países de Europa Central tras la introducción de animales subclínicamente infectados (portadores asintomáticos). Desafortunadamente, hoy en día se desconocen muchos aspectos epidemiológicos de esta parasitosis que dificultan el control de la enfermedad, a lo que se añade la ausencia de tratamientos y vacunas eficaces. Por ello, la EFSA (European Food Safety Agency) recomendó realizar estudios epidemiológicos en áreas de Europa donde la enfermedad es endémica con el fin de determinar la importancia real de la enfermedad en el ganado bovino y esclarecer, entre otros, el papel que puedan jugar los rumiantes silvestres como posibles reservorios del parásito...
Bovine besnoitiosis is a chronic and debilitating disease caused by the cyst-forming apicomplexan parasite Besnoitia besnoiti. This disease may be responsible for severe economic losses due to the effect on productive and reproductive parameters since it causes abortion, sterility in males, loss of body condition and decrease in milk production. Since 2010, bovine besnoitiosis has been considered to be a re-emergent disease in Europe due to an increased number of cases and geographical expansion in Spain as well as in other European countries. In our country, the disease has been traditionally endemic in two Northern regions (the Pyrenees and Urbasa-Andía mountains) although at present it is also spreading to Central and Southern Spain. It is believed that traditional management measures of beef cattle herds raised outdoors (natural mating, communal pastures and contact with wild ruminants) favors parasite transmission. However, the clues of this re-emergence are still unclear. Two possible explanations might be a higher census of beef cattle population supported by the common agricultural policy (CAP) and the noticeable increase of animal-trade without health control. In fact, animal trade of sub-clinically infected cattle may have contributed to the occurrence of several disease outbreaks recorded in Central Europe. Unfortunately, many biological and epidemiological aspects of the B. besnoiti infection remain unknown and make the control of the disease difficult as well as the absence of efficient treatments and/or vaccines. Thus, the EFSA pointed out the need to investigate the disease in regions where bovine besnoitiosis is endemic in order to determine the real importance of the infection in European cattle and the role of wild ruminants among others as reservoirs. Following these recommendations, two specific objectives have been defined in the present Doctoral Thesis in order to improve the knowledge of the epidemiology of bovine besnoitiosis in Spain...
Description
Tesis inédita de la Universidad Complutense de Madrid, Facultad de Veterinaria, Departamento de Sanidad Animal, leída el 22-04-2016
Collections