Publication:
Meritocracia y educación: más allá de la igualdad de oportunidades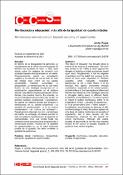 Advisors (or tutors)
Editors
Abstract
El retorno de la desigualdad ha generado un resurgimiento de la crítica a la meritocracia. El término fue acuñado en torno a 1950 para alertar sobre los peligros de construir una sociedad basada exclusivamente en el mérito. Progresivamente, perdió su connotación negativa y la creencia de que el éxito es fruto del trabajo duro creció en los países occidentales mientras aumentaba la desigualdad. La meritocracia no es una mera ficción: es una ideología incorporada en la socialización, especialmente en el sistema escolar, que afecta a nuestra percepción de los demás y de nosotros mismos. Es, además, un recurso estratégico en las luchas que se dan en distintos campos, instituciones y profesiones. Se espera del sistema escolar que asegure la meritocracia, en su versión progresista —la igualdad de oportunidades— o en su versión conservadora —la "cultura del esfuerzo"—. Perpetuando la ideología del don y la ideología del mérito, sin embargo, el sistema escolar no solo no realiza la meritocracia ni la igualdad de oportunidades, sino que revela todas las contradicciones que produce la búsqueda de la meritocracia escolar. Todavía útil, la igualdad de oportunidades no es el único horizonte posible de la igualdad. No debe olvidarse la igualdad de posiciones.
The return of inequality has brought about a revival of the critique of meritocracy. The term was coined in the 1950s to warn against the dangers of building a society exclusively based upon merit. Progressively, it lost its negative connotation and the belief that success is the result of hard work expanded in Western countries while inequality increased. Meritocracy is not a mere fiction: it is an ideology that agents incorporate through socialisation, especially in the school system, and with effects in their perception of others and themselves. Moreover, it is a strategic resource in struggles taking place in different fields, institutions, and professions. The school system is meant to realise meritocracy, either in its progressive version —equality of opportunity— or in its conservative form —"effort culture"—. Nonetheless, perpetuating the ideology of gifts and the ideology of merit, the school system not only does not realize meritocracy nor equality of opportunity, but it also reveals all the contradictions produced by the search for school meritocracy. Although still useful, equality of opportunity is not the only possible horizon in the pursuit of equality. Equality of positions must not be forgotten.
Collections