Publication:
Round table: nucleon tomography. What can we do better today than Rutherford 100 years ago?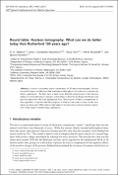 Advisors (or tutors)
Editors
Abstract
A survey is presented on the current status of 3D nucleon tomography. Several research frontiers are addressed that dominate modern physics from theory to current and future experiments. We have now a much more detailed spatial image of the nucleon thanks to various theoretical concepts and methods to describe its charge distribution and spin decomposition which are highlighted here. The progress of lattice computations of these quantities is reported and the prospects of what we can come to expect in the near future are discussed. Multi-dimensional maps of the nucleon's partonic structure appear now within reach of forthcoming experiments.
Description
© The Authors, published by EDP Sciences. Conference on Quark Confinement and the Hadron Spectrum (12.2016.Tesalónica, Grecia) All authors of this document would like to thank their respective collaborators. The work of T. Horn was supported in part by NSF Grant PHY-1306227. The lattice QCD results reported here (C. Alexandrou) were enabled through a grant from the Swiss National Supercomputing Centre (CSCS) under project ID s540 as well as through computational resources from the John von Neumann-Institute for Computing on JUROPA and JUQUEEN partly using the PRACE allocation, which included Curie (CEA), Fermi (CINECA), and SuperMUC (LRZ). H. Moutarde obtained some of the results and insights described here with collaborators throughout the world and is grateful to all of them. This work was supported in part by the Commissariat à l'Energie Atomique et aux Energies Alternatives and by the French National Research Agency (ANR) under Grant ANR-12-MONU-0008- 01. I. Scimemi is pleased to acknowledge fruitful discussions with Miguel G. Echevarria and Alexey Vladimirov. His work was supported in part by the Spanish MECD Grant FPA2014-53375-C2-2-P. N. G. Stefanis wants to thank the Alexander von Humboldt-Stiftung for a travel grant that led to this document.
Collections