Publication:
Estudio de la relación entre el síndrome de apneas-hipopneas del sueño y el síndrome del párpado laxo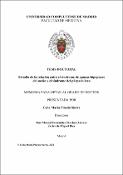 Files
Advisors (or tutors)
Editors
Publisher
Universidad Complutense de Madrid
Abstract
El síndrome de apneas-hipopneas del sueño (SAHS) es un problema de salud pública por su elevada prevalencia y la gran morbi-mortalidad que conlleva. En algunos estudios previos se ha planteado la posible existencia de una asociación entre el síndrome del párpado laxo (FES)y el SAHS. Parece factible que ambas enfermedades tengan una base patogénica común y que los individuos que las padecen presenten unas características específicas. En nuestro trabajo se ha analizado la frecuencia del SAHS en los sujetos que padecen un FES, así como las características de los pacientes que sufren ambos trastornos simultáneamente, con la intención de mejorar el conocimiento de estas enfermedades...
Sleep apnea–hypopnea syndrome (SAHS) is a public health problem due to the high prevalence and the high morbidity and mortality that it entails. In some previous studies, the possible existence of an association between floppy eyelid syndrome (FES) and SAHS has been raised. It seems feasible that both diseases have a common pathogenic basis and that the individuals who suffer from them would have specific characteristics. In our work, the frequency of SAHS in subjects with FES has been analyzed, as well as the characteristics of patients suffering both disorders simultaneously, with the intention of improving knowledge of both diseases...
Description
esis inédita de la Universidad Complutense de Madrid, Facultad de Medicina, leída el 17-02-2022
Collections