Publication:
Las redes sociales a través de la web 2.0: el caso de las mujeres en Puerto Rico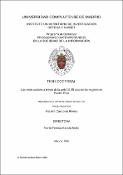 Files
Authors
Advisors (or tutors)
Editors
Publisher
Universidad Complutense de Madrid
Abstract
Las sociedades tecnológicamente avanzadas del siglo XXI han experimentado cambios drásticos en muchas áreas del diario vivir. En los últimos años del siglo XX y comienzos del siglo XXI, un buen número de teóricos sociales, historiadores y filósofos llegaron a la conclusión de que la sociedad actual vive en una nueva circunstancia histórica. También declaran que ha habido una inminente serie de transformaciones y rupturas sin precedentes en los ámbitos científico, cultural, político y social. Las consecuencias de estas transformaciones han sido avances para la sociedad como mejores infraestructuras, profusos conocimientos relacionados con la salud y el alargamiento de la vida, y el acceso a las tecnologías de información y comunicación. Las sociedades contemporáneas están vinculadas a la globalización y su proceso dinámico. Este vínculo hace que las sociedades de hoy día sean más complejas, más diversas y más adaptables al cambio que nunca. Hoy día es inconcebible pensar que cualquier sociedad desarrollada pueda existir sin los continuos intercambios de información y comunicación que finalmente se convierten en conocimiento. Estos intercambios están propulsados por el uso de las nuevas tecnologías, en las cuales los usuarios se relacionan a nivel de redes y sus acciones repercuten en diversos ámbitos, ya sean locales o globales. Aunque es imprescindible recordar que las tecnologías de la información y la comunicación no son la panacea para resolver los conflictos que están presentes en una sociedad contemporánea, pueden servir como una herramienta para hacer del mundo un lugar más equitativo en el que vivir. Asimismo, la sociedad actual se caracteriza por una transformación de paradigmas en los que la interacción sin parar de sus ciudadanos y sus respectivas redes a través de los medios de comunicación e interacción es fundamental. Esto conlleva a cambios y movimientos sociales que arremeten principalmente a las relaciones de poder existentes en la sociedad y sus instituciones y buscan que se den circunstancias para la transformación y creación de nuevos prototipos de estructuras sociales...
The technologically advanced societies of the XXI century have undergone drastic changes in many areas of daily life. In the late twentieth century and early twenty-first century, a number of social theorists, historians, and philosophers state that there has been a series of imminent transformations and unprecedented upheavals in the scientific, cultural, political, and social fields. The consequences of these changes have resulted in advances for society such as better infrastructure, knowledge related to health and longer life, along with access to information and communication technologies. Puerto Rico like any other countries have undergone a series of transformations of political, economic, social, educational, and cultural shifts within the last century. There are characteristics that give the impression of belonging to the group of developed countries, which adhere to the basic principles of democracy, to include; freedom to form and join organizations, the right of expression, the right to vote, free and fair elections, and the separation of powers. However, Puerto Rico is a patriarchal country in which through its rigid patriarchal structures women remained in the shadows and their voices were silent or subjugated to men through greater scrutiny, which is discriminatory, adversarial, and condescending. With the establishment of patriarchy, women were reduced to the private sphere and men dominated the public space and therefore, took over the narrative. Consequently, this narrative left women invisible throughout history and the social processes that had occurred. As a result, women are under-represented in many areas of society such as politics, and areas of power and decision-making. Hence, much of the country's history remains incomplete and biased...
Description
Tesis inédita de la Universidad Complutense de Madrid, Facultad de Ciencias de la Información, leída el 29-09-2015
Collections