Publication:
La Iniciativa de Agenda en América Latina y la Unión Europea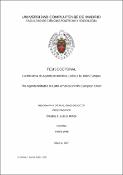 Files
Authors
Advisors (or tutors)
Editors
Publisher
Universidad Complutense de Madrid
Abstract
Las instituciones de la democracia representativa enfrentan un proceso de descrédito y desafección que ha conducido a la búsqueda de mecanismos que permitan renovarla, especialmente a través de la "innovación democrática". Sin embargo, el diseño defectuoso o el uso improvisado de algunos de estos instrumentos, han generado nuevos problemas de representación, legitimidad y conexión entra ciudadanía y políticas públicas. En este escenario, esta tesis se centra en un mecanismo de tipo indirecto que en teoría debería de contribuir a paliar la crisis de representación: la Iniciativa de Agenda. Pese a su amplia presencia en los ordenamientos jurídicos de América Latina y de la Unión Europea, así como en el debate político actual, es objeto de una muy escasa atención académica. Conforme a la Iniciativa de Agenda (IA) o Iniciativa Legislativa Popular (ILP), indirecta, un grupo de ciudadanos plantea una propuesta normativa ante el legislador, responsable último de la decisión final sobre esa iniciativa surgida "desde abajo". La propuesta no conduce a una decisión vinculante sino que persigue instalar el tema en la agenda pública y parlamentaria mientras delega el resultado final al Parlamento. La IA, entonces, puede resultar idónea a la hora de fortalecer la legitimidad democrática al ofrecer, de una parte, la oportunidad de impulsar iniciativas políticas a los representados y, de otra, al dar a los representantes la posibilidad de informar, debatir y, a la postre, decidir sobre cuestiones de interés público, esto es, de argumentar sobre sus decisiones con la ciudadanía. Adecuadamente configurada, debe de ofrecer un reforzamiento recíproco de los principales actores de la democracia, evitando los efectos de ruptura de la representación que puede originar un referéndum...
The institutions of representative democracy are currently facing a process of discredit and disaffection that has led to the search for mechanisms for its renewal, especially through "democratic innovation". However, the faulty design or improvised use of some of these instruments has generated new problems of representation, legitimacy and connection between citizens and public policies. In this scenario, this thesis focuses on an indirect mechanism that in theory should contribute to alleviating this crisis of representation: the Agenda Initiative. Despite its wide presence in the legal systems of Latin America and the European Union, as well as in the current political debate, it is the subject of very little academic attention. According to the Agenda Initiative (AI), or the indirect Popular Legislative Initiative (PLI), a group of citizens present a new legislative proposal for the consideration of the legislators responsible for the final decision on that bottom-up initiative. The proposal does not lead to a binding decision but rather seeks to raise an issue on the public and parliamentary agenda, while the final outcome is decided by the Parliament. IA can be an ideal way to strengthen democratic legitimacy, on the one hand, by offering the opportunity to promote political initiatives for the citizens and, on the other hand, by giving representatives the opportunity to inform, debate and finally decide on matters of public interest, i.e. to discuss their decisions with the people. With suitable configuration, it should offer a reciprocal reinforcement of the main actors in a democracy, avoiding the rupture effects of representation to which a referendum can lead...
Description
Tesis inédita de la Universidad Complutense de Madrid, Facultad de Ciencias Políticas y Sociología, leída el 19-05-2017
Collections