Publication:
Sobre San Agustín y el "Amor" : repercusiones en las conceptualizaciones del "amor" en Rousseau y Kierkegaard : una relectura histórico-filosófica del "amor" desde la crítica feminista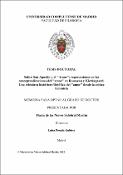 Files
Advisors (or tutors)
Editors
Publisher
Universidad Complutense de Madrid
Abstract
Esta investigación doctoral, titulada Sobre S. Agustín y el "amor": repercusiones en las conceptualizaciones del "amor" en Rousseau y Kierkegaard. Una relectura históricofilosófica del "amor" desde la crítica feminista, explora el pensamiento amoroso de Agustín de Hipona, con objetivo general de rastrear los constructos epistemológicos agustinianos sobre el amor en la teoría filosófica de Jean Jacques Rousseau y Sören Kierkegaard. Una formulación que se justifica en el capítulo de introducción, junto con el uso metodológico documental y la estructura de sus cuatro capítulos. En el segundo capítulo se analizan las influencias neoplatónicas de este pensador católico, tanto las doctrinas de lo Uno de Plotino como conceptos centrales de la escuela estoica en general, que vienen a reformular algunos de los discursos de Platón sobre el amor vertidos en El banquete y Fedro, e incorpora la téchne de Jean Cassien sobre la modulación del deseo sexual. La mayor parte de los elementos centrales de la filosofía amorosa del pensador de Hipona componen una metafísica dual del amor, que concibe dos amores contrapuestos, uno verdadero el amor caritas y otro erróneo, cupiditas. El primero rechaza el amor erótico singular y, en cambio, ensalza un ideal de amor al amor, que promueve el amor-fusión entre sujeto amante y objeto amado en el interior de las relaciones heterosexuales matrimoniales, así como, el amor abstracto entre semejantes autosuficientes, capaces de alcanzar la maestría y la autoridad de los padres en la comunidad religiosa...
This doctoral research, titled: About St. Augustine and "love": repercussions on the conceptualization of "love" in Rousseau and Kierkegaard. A thorough reading of the historical and phylosophical definition of love from the feminist point of view, explores the concept of love coined by Augustine of Hippo, with the main goal of tracking the epistemological Augustinian constructs about love in Jean Jacques Rousseau and Soren Kierkegaard's philosophical theories. This formulation is justified in the introduction chapter, alongside the methodological documental use and structure of its four chapters. Agustine's neoplatonic influences are analyzed in the second chapter: both Plotinus' One and central concepts of the stoical school, which reformulates some of Plato's discourses about love, developed in the Symposium and Phaedrus, and incorporates Jean Cassien's téchne about the modulation of sexual desire.Most of central elements of Hippo's thinker love philosophy compose a dual metaphysic of love, that conceptualises two opposite types of thereof: a true one, the caritas love, and an erroneus one, cupiditas. The former rejects the singular erotic love and, conversely, praises the ideality of love for love, which fosters the love fusion between loving subject and loved subject within heterosexual matrimonial relationships, able to reach the mastery and fathers authority on religious communities...
Description
Tesis inédita de la Universidad Complutense de Madrid, Facultad de Filosofía, leída el 18-01-2022
Collections