Publication:
Tradición clásica en el Bernardo de Bernardo de Balbuena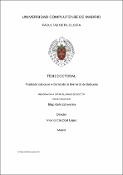 Files
Authors
Advisors (or tutors)
Editors
Publisher
Universidad Complutense de Madrid
Abstract
La primera parte del trabajo contiene la presentación de la obra que se va a estudiar, el poema épico titulado Bernardo y contextualiza a su autor, el escritor español Bernardo de Balbuena, dentro de su tiempo, el Siglo de Oro, y en la corriente literaria, renacentista tardía o barroca, en la que se encuadró. Balbuena compone un poema épico-caballeresco sobre el héroe leonés Bernardo del carpio en el que el autor sigue la corriente de los influyentes romanzi de la lengua toscana, especialmente del Orlando furioso de Ariosto y también del Orlando innamorato de Boiardo. Se repasa brevemente la biografía de Bernardo de Balbuena, desde su nacimiento en Valdepeñas, pasando por el comienzo de su carrera profesional –eclesiática y literaria– en México, su vuelta a España y su fallecimiento en Puerto Rico, donde ejerció de obispo. En la obra de Balbuena se aprecia un claro correlato global con la de Virgilio. También se repasan las diferentes opiniones y comentarios que ha registrado el Bernardo desde el tiempo en que fue publicado hasta nuestros días. Se presta especial atención a los investigadores que han dedicado sus conocimientos a detectar huella de influencia clásica grecolatina en la obra...
The first part of the work contains the presentation of the work to be studied, the epic poem entitled Bernardo and contextualizes its author, the Spanish writer Bernardo de Balbuena, within his time, the Golden Age, and in the literary stream –late Renaissance or baroque– in which it was framed. Balbuena composes an epic-chivalrous poem about the Leonese hero Bernardo del Carpio in which the author follows the flow of the romanzi influencers of the Tuscan language, especially the Orlando furioso of Ariosto and also of the Orlando innamorato of Boiardo. The biography of Bernardo de Balbuena is briefly reviewed, from his birth in Valdepeñas, going through the beginning of his professional career –ecclesiastical and literary– in Mexico, his return to Spain and his death in Puerto Rico, where he served as bishop. In Balbuena's work there is a clear global correlation with that of Virgil. The different opinions and comments that the Bernardo has registered since the time it was published until today are also reviewed. Special attention is given to researchers who have dedicated their knowledge to detecting a classic Greco-Roman influence in the work...
Description
Tesis inédita de la Universidad Complutense de Madrid, Facultad de Filología, leída el 29/11/2019
Collections