Publication:
Testing and profiling of regular type operations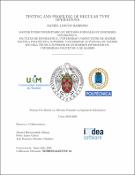 Authors
Advisors (or tutors)
Editors
Abstract
We performed an audit of the operations of the regular types library included with the Ciao pre-processor, CiaoPP, with the objective of exploring its correctness and efficiency. We centered our investigation on the operations relevant for performing type inference analysis via abstract interpretation, with special attention to the widening operators. We implemented tools to perform our white-box testing of the library, found the bottlenecks for analysis, and proposed some solutions to the main issues diagnosed in the investigation.
Hemos realizado una auditoria en la librería de tipos regulares del preprocesador de Ciao, CiaoPP, con el objetivo de explorar su corrección y eficiencia. Centramos nuestra investigación en las operaciones relevantes para el análisis de tipos por interpretación abstracta, prestando especial atención a los operadores de widening. Hemos implementado herramientas para realizar pruebas de caja blanca en la librería, encontrado los cuellos de botella para el análisis y hemos propuesto soluciones a los principales problemas detectados en la investigación.
Description
Trabajo Fin de Máster en Métodos Formales en Ingeniería Informática. Universidad Complutense, Departamento de Sistemas Informáticos y Computación, Curso 2019/2020