Publication:
The sedimentological significance of a clastic wedge in the western basin margin of the Triassic Tethys (Iberian Range, Spain)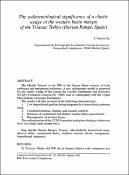 Authors
Advisors (or tutors)
Editors
Abstract
The Middle Triassic in the NW of the Iberian Basin consists of both carbonate and terrigenous sediments. A new sedimentary model is proposed for the clastic wedge of the Cuesta del Castillo Saudstones and Siltstones (CCSS) Formation (García-Gil, 1990), and its relationship with the Upper Muschelkalk carbonate Formations. The model will take account of tite following characteristics: 1. Low depositional gradient being integrated in a homoclinal carbonate ramp. 2. Combined tectonic, climatic aud eustatic controis. 3. Presence of continental antA shallow marine facies associations. 4. Homogeneity of textural facies. The sedimentation of tite CCSS Formation took place during a relative sea level rise (high stand system tract).
El Triásico Medio del NW de la Cuenca Ibérica está compuesto por sedimentos carbonáticos y terrígenos. Se propone un nuevo modelo de sedimentación para la cufla clástica que representa la Formación «Areniscas y Lutitas de la Cuesta del Castillo» (García-Gil, 1990), y su relación con las formaciones carbonáticas del Muschelkalk Superior. El modelo considera las siguientes características: 1. Bajo gradiente deposicional, estando integrado en una rampa carbonática homoclinal. 2. Combinación de efectos tectónico, climático y eustático. 3. Presencia de asociaciones de facies continentales y marinas someras. 4. Homogeneidad textural de las facies. La sedimentación de la Formación CCSS tuvo lugar durante una subida relativa del nivel del mar.
Collections