Publication:
Weighted composition operators on the Dirichlet space: boundedness and spectral properties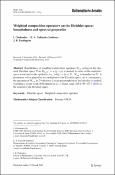 Advisors (or tutors)
Editors
Abstract
Boundedness of weighted composition operators TeX acting on the classical Dirichlet space TeX as TeX is studied in terms of the multiplier space associated to the symbol TeX, i.e., TeX. A prominent role is played by the multipliers of the Dirichlet space. As a consequence, the spectrum of TeX in TeX whenever TeX is an automorphism of the unit disc is studied, extending a recent work of Hyvärinen et al. (J. Funct. Anal. 265:1749–1777, 2013) to the context of the Dirichlet space.
Collections