Publication:
Distinguished subsets and complemented copies of co in vector sequence spaces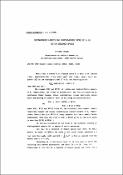 Authors
Advisors (or tutors)
Editors
Publisher
Universidad de Extremadura, Departamento de Matemáticas
Citation
K. T. Andrews, Dunford-Pettis sets in the space of Bochner integrable functions. Math. Ann.,241 (1979). 35-41 F. Bombal, On Pelczynski's property (V*) in vector sequence spaces.-Coll. Math. 39 (1988), 141-148. J. Bourgain and J. Diestel, Limited operators and strict cosingularlty. Math. Nachr., 119 (1984), SS-58. J. K. Brooks and N Dinculeanu, Weak compactness in spaces of Bochner integrable functions and applications, Advances in Math., 24 (1977), 172-188. J. Diestel, 5equences and series in Banach spaces. Graduate texts in Math., Nº. 92, Springer, 1984. L. Drewnowsk1, On Banach spaces with the Gelfand-Phi11ips property. Math. Zeitschrift 193 (1986). 405-411. G. Emmanuele, A note on Banach spaces containing complemented copies of co. Preprint. G. Emmanuele. On comp1emented copies of C0 in Lp ,. Proc. A. M. S., (1988). 785-786. T. Leavelle. The Reciproca1 Dunford-Pettis property. To appear in Ann. Mat. Pura e Appl. T. Schlumprecht. Limi tierte Hengen in Banachraumen. Thesis. LudWig-Maximilians Universitat, München, 1988.
Collections