Publication:
El impacto de la robótica, en especial la robotica inclusiva, en el trabajo: aspectos jurídicos-laborales y fiscales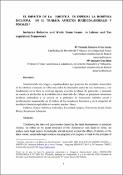 Advisors (or tutors)
Editors
Abstract
Considerando los riesgos y oportunidades que plantean los recientes desarrollos en la robótica avanzada, se reflexiona sobre la dimensión social de ese fenómeno y, con fundamento en la ética, se analizan algunos aspectos jurídicos. En particular, y teniendo en cuenta la afectación de la robótica en el mercado de trabajo, se proponen soluciones jurídicas sostenibles y se avanza en el principio de innovación robótica social y jurídicamente responsable en el ámbito de las relaciones laborales y en la adopción de medidas tributarias aplicables en relación con los robots.
Considering the risks and opportunities created by the latest developments in advanced robotics, we reflect on the social dimension of this phenomenon and, based on ethics, we analyze some legal aspects. In particular, and taking into account the effects of robotics on the labor market, sustainable legal solutions are proposed and progress is made in the principle of socially and legally responsible robotic innovation, in the field of labor relations and in the adoption of tax and fiscal measures applicable in relation to robots.