Publication:
El proceso de toma de decisiones en la política exterior del gobierno de Ricardo Lagos, 2000-2006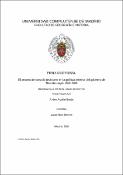 Files
Authors
Advisors (or tutors)
Editors
Publisher
Universidad Complutense de Madrid
Abstract
El proceso de la globalización está incrementando la interconexión entre los estados y sociedades, creando nuevos espacios supraterritoriales, haciendo más difusas las fronteras entre la política interna y la externa, y que los asuntos internacionales tengan un mayor impacto sobre los asuntos domésticos que en el pasado. Al hacerlo, la globalización está impactando el principio de la soberanía, al Estado en sí mismo y la forma en que los estados interactúan entre sí, demandando su adaptación a estos cambios. Todos estos cambios están teniendo también un impacto en los procesos de toma de decisiones en política exterior, los cuales se han vuelto más complejos, abiertos y sensibles, con la participación de más y nuevos actores y la existencia de más temas en la agenda internacional. Esta situación se ve fortalecida en el caso de países que han optado por una mayor apertura y vinculación exterior como resultado de su modelo de desarrollo. Chile es un país pequeño en vías de desarrollo que ha respondido a la globalización a través de una mayor interconexión con el sistema internacional y las consecuencias han sido positivas. Chile es considerado hoy en día un país altamente interconectado con el sistema internacional y uno en el cual la globalización ha tenido importantes beneficios, con una mejoría considerable en las últimas décadas de las condiciones económicas y sociales. En tal sentido, la experiencia chilena demostraría que la globalización es positiva para estados pequeños si se adoptan políticas, entre ellas la externa, adecuadas para enfrentarla...
The globalization process is increasing the interconnections among states and societies, creating new supraterritorial spaces, in a world with diffuse borders between domestic and international politics, and international affairs having more impact on domestic affairs than in the past. By doing so, globalization is impacting the principle of sovereignty, the state itself and the way in which states interact with each other, demanding the adaptation of the state to these changes. All these changes are also having an impact in the foreign policy decision making process, which have become more complex, open and sensitive, with an increasing participation of new and more actors and the existence of more issues on the international agenda. This situation is strengthened in countries that have opted for a higher level of openness and international relationship as a result of their development model. Chile is a small developing country that has responded to globalization through more interconnection with the international system. As a result today Chile is considered highly interconnected with the international system and a country in which globalization have had important positive impacts, with the economic and social conditions improving considerably in the few last decades. In this sense, the experience of Chile can demonstrate that globalization can be positive for small states if adequate policies, including foreign policy, to deal with this process are followed...
Description
Tesis inédita de la Universidad Complutense de Madrid, Facultad de Geografía e Historia, leída el 05-02-2016
Collections